Cable, Pipe and Rebar Locators
Cable Fault Locator displays time domain reflection on LCD.
Press Release Summary: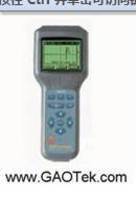 Utilizing TDR technology along with analysis software, Model 6130 analyzes status of cable. It is used to test underground cables to discover impedance break points in HFC systems and locate cable damages, tie-in dampness, and terminal impedance failure. Unit is capable of testing 25, 50, 75, and 100W impedance cables at lengths of up to 2 Km and provides electronics map relevant to time domain picture so that fault can be detected easily.
---
Original Press Release:

Powerful Cable Fault Locator



Toronto, Canada- GAO Tek Inc. (www.GAOTek.com) has released its CATV cable fault locator which has a high tolerance for interference due to noise. This fault locator is widely used to test underground cables to discover impedance break points in HFC systems then locate and reveal the cable damages, tie-in dampness, and terminal impedance failure.

Utilizing Time Domain Reflection (TDR) technology along with analysis software, GAO Tek's model 6130 cable fault locator displays the time domain reflection on the LCD and analyzes the status of the cable. This CATV cable fault locator is able to accurately test 25,50,75 and 100 Ohm impedance cables at lengths of up to 2km. The meter's intelligent "Self-study" function enables it to test a given cable of a certain length after calibration and make accurate re-tests of similar cables later. The cable fault locator provides electronics map relevant to time domain picture so that the fault can be detected easily and it connects to a PCs in order to upload files and for data analysis.

Visit www.GAOTek.com for more information on, Model 6130, or to purchase this product online.

About GAO Tek Inc.

GAO Tek Inc. is a leading provider of test and measurement equipment, telecommunication testers, electronic measurement instruments, embedded development tools and other electronic products that serve the needs of electronic professionals internationally.

For any sales inquires please contact:

1-877 585-9555 - Toll Free (USA & Canada)

1-416 292-0038 - All Other Areas

sales@gaotek.com

Company Name: GAO Tek Inc.

Address 1: 601 Milner Avenue,3rd Floor

City: Toronto

State: CA

Zip: M1B 2K4

Country: canada

Phone: 416-292-0038

E-mail: media@gaogroupinc.com

More from Architectural & Civil Engineering Products