Cable Entry System safely seals metal clad, armor cables.
Press Release Summary: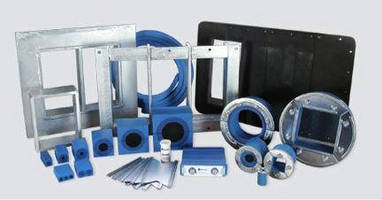 Used in building structures, cabinets, and enclosures, BG(TM) cable entry system is designed to seal large quantities of metal clad or armored cables using minimal space. Adaptable product can directly replace conventional cable glands and provides additional protection against weather, blast, rodents, and fire. Users can seal varying ODs of single or multiple cables while ensuring certified bonded or grounded termination.
---
Original Press Release:
Roxtec Introduces the Unique BG(TM) Cable Entry System for Safely Sealing Large Quantities of Metal Clad or Armor Cables in the lease Amount of Space
The Roxtec BG(TM) product family is a one-of-a-kind cable entry system designed to seal large quantities of metal clad or armored cables using minimal space. When used in building structures, cabinets and enclosures BG(TM) is proven to eliminate costs by significantly reducing design and installation time --- while also providing optimum electrical safety and protection to people and equipment. The BG(TM) cable entry system provides additional protection against weather, blast, rodents and fire. BG(TM) products are up to 70% more area efficient than conventional cable glands and function successfully as a direct replacement to glands for terminating metal clad and armor cable types. With a single BG(TM) cable entry from Roxtec, users can seal varying outside diameters of single or multiple cables while ensuring a certified bonded or grounded termination. BG(TM) innovation for adaptability to cables and pipes of different sizes is based on modules with removable layers. This feature simplifies design, speeds up installation and minimizes the need for stock and logistics. Users can adapt each module to the cable armor as well as to the cable sheath, thereby enabling sealing, bonding and grounding armored cables of varying shapes. A built-in "spare capacity" simplifies upgrades in an operating environment by enabling maintenance teams to change, add or remove cables. Roxtec BG(TM) seals perfectly, regardless of the dimension of the cable or pipe. Roxtec BG(TM) solutions also provide added flexibility in design while improving timing of project and equipment delivery. Adaptability to cables of different sizes allows users to specify and design cable entries before final cable schedules are complete. If the cable schedule changes in the field, the installer simply adjusts the modules for a perfect fit. For wall and floor cable penetrations, the new BG(TM) system is fire rated and gas-and-watertight. BG(TM) is the only multi-cable transit system certified to meet all major electrical schemes with bonding and grounding for low to high voltage applications. It is also certified for hazardous locations (Ex) and suitable for lightning protection as well as for both land-based (UL 1479) and marine applications (A and H class divisions). Roxtec BG(TM) solutions enable simple installation for floor or wall entries into fixed or pre-fabricated buildings. Only a single cut-out is required for a BG(TM) frame, allowing complete cable load installation with each cable secured and grounded to electrical standards. Maintenance teams can add or remove cables with ease, without any additional components. For electrical, control and instrumentation cabinets, Roxtec BG(TM) solutions provide IP 66/67, NEMA 4, 4x and hazardous location (Ex) certifications. Roxtec cable entry systems for cabinets are also approved for all major international electrical schemes. Roxtec BG(TM) solutions allow for the size and weight of cabinets to be reduced and make it easy to add or remove cables in an operating environment. For cabinets and electrical enclosures, Roxtec BG(TM) solutions allow for the size and weight of cabinets to be greatly reduced. A single cut-out can accommodate up to 32 cables, which drastically reduces the amount of space required when compared to 32 individual cable glands. In summary: more cables...less cabinet. About Roxtec and Multidiameter(TM) Swedish Roxtec Group is the world-leading provider of flexible modular-based cable and pipe seals. The company's invention for adaptability to cables and pipes of different sizes is called Multidia- meter(TM). The solution is based on sealing modules with removable rubber layers, which allows for a perfect sealing, regardless of the outside dimension of the cable or pipe. The technology simplifies design and engineering, speeds up the installation process and reduces the need for stock, material and logistics. It also provides built-in spare capacity for easy retrofit and future upgrades. Roxtec serves and supports customers in more than 70 markets through 18 subsidiaries and a network of distributors. For more information, please visit www.roxtec.com
More from Computer Hardware & Peripherals