Cable Carriers withstand temperatures to 1,562°F.
Press Release Summary: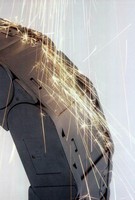 High-temperature, chip-repellent version of Systems E2 and E4 Energy Tubes is constructed with igumid HT polymer material, making it suitable for applications where scalding chips or metal fragments are prevalent. Snap-open hinges are located on inner or outer radius of lid according to preference, enabling repair or replacement of cables housed within. Available options include horizontal or vertical cable separators and integrated strain relief.
---
Original Press Release:

New High-Temperature Polymer Enables Energy Tube Cable Carriers to Beat the Heat of Extreme Temperatures



EAST PROVIDENCE, R.I. - August 15. 2006 - Igus® Inc., the leading developer of Energy Chain® cable earners, Chainflex® continuous-flex cables, iglide® plastic bearings and DryLin® linear guide systems, today unveiled its new and improved high-temperature, chip-repellant version of its System E2 and System E4 Energy Tubes. The fully enclosed Energy Tube is constructed with igumid HT, a pioneering polymer material that is unaffected by hot chips reaching temperatures as high as 1,562 degrees Fahrenheit.

New igumid HT takes igus' Energy Tube heat resistance to a new level. Standard Energy Tubes, made from igumid G polymer, protect against elements reaching 932 degrees Fahrenheit, which is more than adequate for most applications. Igumid HT meets the needs of those applications experiencing extremely hot temperatures, ensuring that searing debris will bounce off the system without incidence.

Energy Tubes made from igumid HT are specifically designed for machine-tool applications, welding machines, plasma-cutting machines or any environment where objects such as scalding chips or metal fragments are prevalent. High-temperature Energy Tubes also are an ideal alternative to difficult-to-handle steel cable carriers.

High-temperature Energy Tubes have many additional features and benefits, including:
o availability in all standard System E2 and System E4 sizes;
o custom-design with a very short lead time;
o ability to make the entire carrier, or just the snap-open lids, in igumid HT material;
o protection from a wide variety of elements, such as hot chips, dirt, dust and humidity; and
o lightweight, space-saving construction.

"We can confidently stand behind Energy Tubes made of new igumid HT, as the material has passed numerous in-house tests with superior results," said Joe Ciringione, Energy Chain business unit manager for igus. "Having our System E2 and E4 Energy Tubes available in this new material provides additional options for our customers with extreme-temperature applications. From applications in steel mills to foundry plants, our high-temperature Energy Tube can be used with the peace of mind that it will protect against the most scorching environmental elements without incurring damage."

Like all E2 and E4 Systems, high-temperature Energy Tubes are equipped with easy-release, snap-open hinges so customers can quickly repair or replace cables housed within. These hinges are located on either the inner or the outer radius of the lid depending on customer preference. Horizontal or vertical cable separators, integrated strain relief and additional accessories also are options for customers. Energy Tubes made of igumid HT also can be delivered as ReadyChain, a preassembled cable carrier system complete with cables, carrier, connectors, mounting brackets and all accessories.

The new high-temperature Energy Tubes will be on display at MTS 2006, in the igus booth #D4158 in Chicago, 111. September 6-13, 2006 at McCormick Place. Please call igus directly for information on pricing, size availability and delivery times.

About igus
Igus Inc., founded in 1985 and based in East Providence, R.I., develops and manufactures industry-leading plastic cable carriers, continuous-flex cables, plastic bearings and linear guide systems. With more than 28,000 products available from stock, the company meets the motion control and machinery component needs of customers worldwide. Product lines include Energy Chain Systems® to protect and house moving cables, Chainflex® continuous-flex cables, iglide self-lubricating, oil-free, plastic bearings, DryLin® linear guide systems and igubal® spherical bearings. For more information, contact igus at (800) 521-2747 or visit www.igus.com.

igus, Energy Chain System, Chainflex, iglide, DryLin and igubal are registered trademarks of igus Inc.

More from Electronic Components & Devices