Cable Carriers keep lines organized.
Press Release Summary: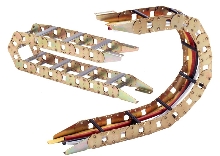 SRC and LRC Series hose and cable carriers maintain proper bend radius of air, hydraulic, and electric lines to prevent fatigue and excessive wear during operation on aerial devices, construction equipment, and other mobile machinery. Carriers have metal link for strength, with removable aluminum bars to help keep weight at minimum. Bars facilitate easy replacement or repair of hoses and cables.
---
Original Press Release:
High Strength/Low Weight Cable And Hose Carriers Handle Larger Loads

NEW BERLIN, Wisconsin--November 26, 2001...A cable and hose carrier design that combines greater strength with lighter weight and easier hose replacement now is available with link heights up to 4" to handle larger loads on aerial devices, construction equipment, and other mobile machinery. The new Gortrac® SRC and LRC Series carriers maintain the proper bend radius of air, hydraulic and electric lines, to prevent fatigue and excessive wear during operation.

The new cable and hose carriers feature a metal link design for strength, with easy-to-remove aluminum bars that help keep weight at a minimum and also facilitate easy, replacement or repair of hoses and cables. The corrosion-resistant carriers are designed to withstand outdoor use on a wide variety of equipment that incorporates hose and cable lines on moving members. They can also be used effectively on machine tools, injection molding machines and other production equipment.

The Gortrac SRC and LRC Series are the newest additions to the Gortrac® line of custom-engineered cable and hose carriers, which includes metallic and non-metallic carriers in both open and closed constructions. They expand the range of sizes available in carriers using this new high strength/low weight design. Link heights available now include the 4" high LRC, 3" high SRC, and 2" high MRC Series. All sizes can be provided in widths from about 3" to 20", with wider carriers available for special applications.

The design of these carriers is based on a survey of needs among leading aerial lift manufacturers by A & A Manufacturing Co., Inc., Gortrac Division. One key factor is the large percentage of these machines that are sold to the rental industry, where weight is a key factor to profitability because it affects transportation costs between jobsites. Bart Bohne, Gortrac Sales Manager explains, "The lighter design of these carriers helps reduce the extension boom weight, so the counterweight required to offset the boom is also reduced."

To reduce weight even more, the unique link design features a patented half-shear lockout system that eliminates parts, adds strength and reduces cost. Overall, the SRC and LRC carriers typically weigh as much as 15 percent less per foot than a corresponding all-metal carrier. However, they are up to 35 percent stronger, with 35 to 40 percent fewer parts and as much as 35 percent better unsupported span than conventional cable and hose carriers.

An offset link configuration makes it possible to incorporate double links and eliminates the need for spacers, which helps to reduce weight and makes it easier to add additional links. The double links are tied together with aluminum bars, providing strength with minimal weight. Non-essential center portions of the link that are not exposed to strain have been removed, and hollow pins are used to further reduce weight.

The carriers are also available with optional aluminum round bars and poly rollers that help to further reduce friction and extend cable and hose life, especially where large or heavy hoses are required.
More from Transportation Industry Products