Cable Carrier enables long travels without guide troughs.
Press Release Summary: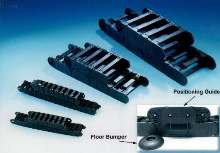 AUTO-GLIDE System is equipped with positioning guide and floor bumpers to keep Energy Chain® in line and prevent top of chain from derailing. Ribs along inner radius of carrier interlock to create channels for carrier to glide along. With AUTO-GLIDE, Energy Chains can achieve speeds up to 16 fps and maintain travel lengths up to 328 ft without guide trough. System is suited for long-travel applications such as conveyor systems and assembly equipment.
---
Original Press Release:

Improved AUTO-GLIDE System Enables Long Travels for Energy Chains Without Guide Troughs


EAST PROVIDENCE, R.I. - April 29, 2004 - igus® Inc. today announced improvements to its AUTO-GLIDE System. With AUTO-GLIDE cable carrier customers enjoy the benefits of a trough-less Energy Chain System® for long travels.

New AUTO-GLIDE is equipped with a positioning guide and floor bumpers to keep an Energy Chain® in line and prevent the top of the chain from derailing and potentially impacting the performance of the machine. The positioning guide is attached to the moving portion of the Energy Chain approximately three feet in from the end point. It fits snugly on the side of the chain and ensures it will retain proper alignment. The new floor bumpers are circular in design and placed at intervals along the length of the chain. They will further prevent potential misalignment of the Energy Chain. They can also be driven over by vehicles operating in the area without sustaining any damage.

With AUTO-GLIDE, Energy Chains can maintain travel lengths up to 328 feet without a guide trough. Speeds up to 16 feet per second can be achieved. Customers will save on purchasing and installation costs, installation time, and the Energy Chain System will require less space, while maintaining strength, rigidity and performance. Guide troughs can create an obstacle for forklifts or other traffic. AUTO-GLIDE keeps the area clear.

AUTO-GLIDE incorporates a ribbed design along the inner radius of the carrier. These ribs interlock to create integrated channels for the carrier to glide along. AUTO-GLIDE is an ideal solution for long-travel applications such as conveyor systems, assembly equipment, textile machinery and gantry robots. Virtually any application using guide troughs in a relatively clean environment can employ an AUTO-GLIDE System.

AUTO-GLIDE is available in a wide variety of inner widths and in multiple configurations. It is part of igus' complete line of Energy Chain Systems to house arid protect moving cables and hoses on automated machinery.

About igus
Igus Inc., founded in 1985 and based in East Providence, R.I., develops and manufactures industry-leading plastic cable carriers, continuous-flex cables, plastic bearings and linear guide systems. With more than 28,000 products available from stock, the company meets the motion control and machinery component needs of customers worldwide. Product lines include Energy Chain Systems® to protect and house moving cables, Chainflex® continuous-flex cables, iglide® self-lubricating, oil-free, plastic bearings, DryLin® linear guide systems and igubal® spherical bearings. For more information contact igus at (800) 521-2747 or visit www.igus.com.

More from Mechanical Components and Assemblies