Cable Bushing maximizes wire density.
Press Release Summary: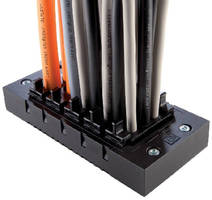 With SKINTOP CUBE MULTI, up to 23 electrical cables or pneumatic lines can pass directly through enclosure wall. System places rigid, glass-reinforced nylon frame into standard-sized cutout in wall. Polycarbonate insert inside rectangular frame has gel-filled holes, which allow cables to be inserted while creating seal and providing strain relief. Available in 2 versions, CUBE MULTIÂ  covers cable diameters from 3–16 mm, maximizing wire density for given size cutout.
---
Original Press Release:

New Cable Bushing Maximizes Density, Minimizes Installation Headaches



Florham Park, NJ — The Lapp Group's new SKINTOP CUBE MULTI cable bushing allows combinations of up to 23 electrical cables or pneumatic lines to pass directly through the enclosure wall, solving the common problem of trying to bring all the necessary power and signal connections into today's increasingly complex electronics enclosures.



SKINTOP CUBE MULTI system places a rigid, glass-reinforced nylon frame into a standard-sized cutout in the enclosure wall. Inside this rectangular frame is a polycarbonate insert with gel-filled hole for the cables or lines to pass through, which is an industry first. The gel allows the cables to be easily inserted through the holes while creating a lasting seal around the cables and provide strain relief.



Available in two versions, CUBE MULTI maximizes wire density for a given size cutout. For example, one version can pack 23 cables, ranging in size from 6 to 9 mm, into 36 x 112 mm cutout, which is the standard size for a 24-pin industrial connector.



The second version squeezes two fewer cables into the same cutout and it supports more varied combinations with room for nine 3 to 6 mm cables, nine 6 to 9 mm cables, two 9 to 13 mm cables and one 13 to 16 mm cable.



For detailed technical information on SKINTOP Cube Multi, go to: http://www.lappusa.com/1956description.htm



About Lapp Group Company

As part of the worldwide Lapp Group, Lapp Group NA offers a complete one-stop automation solution for cable and connector needs. Lapp has the broadest range of products, including OLFLEX®, UNITRONIC®, and SILFLEX® flexible and continuous-flex cables, SILVYN® cable track and accessories, EPIC® rectangular, circular, and Pin & Sleeve Connectors, SKINTOP® strain relief cable glands, FLEXIMARK® Cable Marking Systems, remote access ports, and custom harness assemblies. From its state-of-the-art manufacturing facilities in Florham Park, NJ, Lapp Cable Works manufactures custom cables for unique applications.



Copyright © 2015 T2 Marketing Communications, All rights reserved.

More from Test & Measurement