Cable Blowing Machine quickly installs cable into ducts.
Press Release Summary: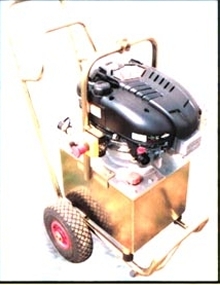 Incorporating aluminum air box and cable pusher, machine uses compressed air to install cable. Hydraulically-powered, belt-driven system controls 0.23 to 1.25 in. diameter fiber-optic cable, as compressed air propels it into duct at speeds up to 300 ft/min. Monitoring system provides readouts of speed and distance, protects against dust obstructions, and has emergency stop. Tubular-steel frame tilts at up to 30° angle to manhole, minimizing bending of duct and cable.
---
Original Press Release:
GMP Tools Parters With CBS Products, Now Offers Fast, Agile Cable Blowing Machine

Trevose PA, January 1, 2002 -- General Machine Products Co., Inc. (GMP), Trevose, Pa., and the U.K.-based CBS Products, Ltd., each globally recognized leaders in cable placement technology, have announced a partnership that adds the CBS cable blowing machine and hydraulic power pack to GMP's product line. Designed to be safe, fast and effective, even on tough terrain, the cable blowing machine will move fiber optic cable of 0.23 to 1.25 in. (5.84-32 mm) diameter at speeds to 300 ft (90 m) per minute into pre-installed innerduct or direct-buried duct. It can accommodate innerduct from 1 to 2.48 in. (25-63 mm).

Comprised of an aluminum air box and cable pusher, the machine uses compressed air to install the cable with or without a missile. In operation, the hydraulically powered, caterpillar belt drive system controls the fiber optic cable as it is propelled by compressed air into the duct. An electronic monitoring system provides read-outs of speed and distance, protects against dust obstructions, and includes an emergency stop facility. The air box and cable pusher are mounted on a lightweight, tubular-steel frame that can be tilted at a 30-degree angle to the manhole, which minimizes significantly any bending of the innerduct and cable. The frame has height and front-wheel adjustments to permit ease of maneuverability, and adjustable rear legs that provide added stability on uneven terrain.

The power pack (photo inset) for the hydraulic belt drive is powered by an air-cooled, gasoline engine delivering compressed air at 3.3 gal/min (15 liters/min) at up to 1750 psi (120 bar). A return line and suction filters protect the hydraulic circuit. The lightweight power pack is mounted on a pneumatically wheeled frame, and is furnished with two 23 ft (7 m) storable hydraulic hoses with quick-release couplings. All relevant parts and components of the cable blowing machine and the hydraulic power pack are specially treated to resist corrosion.

Founded in 1936, GMP is a family-owned company headquartered in Trevose PA, a suburb of Philadelphia. GMP designs, prototypes and manufactures tools and equipment for the aerial and underground placement of copper conductor, coaxial cable and fiber optic cable in the telecommunications, power utility and cable television industries, as well as for the contractors who serve these industries. Its 600-plus product line includes aerial cable lashing machines, continuous-duty winches, fiber optic cable pullers, cable reels and rollers, cable cutters, manhole & duct tools, hand tools, warning signs, tents and tarps, winches, motor vehicle accessories, hardware and commodities, and more. GMP also offers unique modular plug pressing tools and other specially designed tools for the data and telecommunications market.