Cabinets provide HazMat storage and cleanup solution.
Press Release Summary: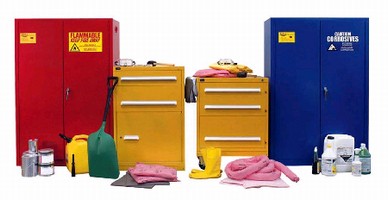 HazMat Storage and Control Center combines spill response cabinet and hazardous Safety Cabinet. Painted HazMat yellow for quick identification, spill response unit comes with drum puncture repair kit, gloves, boots, absorbent pads, safety goggles, non-sparking shovel, and Tyvek® suits. Suited for acids/corrosives, paint/ink, or flammable liquids, hazardous storage Safety Cabinets can be configured with shelves for storing up to 60 gal in various container sizes.
---
Original Press Release:

Stanley Vidmar Introduces The Hazmat Storage And Control Center



Vidmar pairs a specially designed safe storage cabinet with a fully equipped spill response cabinet for a complete hazardous material storage and cleanup solution.

Allentown, PA, June 5, 2006- Spills happen. When a spill includes gasoline, acid, or other hazardous materials, easy-to-access response equipment can mean the difference between a major business setback, and a quick, thorough cleanup with minimum downtime. That's why Stanley Vidmar now offers a complete solution to help customers prepare for such spills. The solution includes a durable spill response cabinet that's fully stocked with HazMat cleanup equipment, and a hazardous storage Safety Cabinet. It will provide customers with a highly visible, well-organized area for hazardous material storage and preparedness.

The spill response cabinet comes already stocked with a drum puncture repair kit, gloves, boots, absorbent pads, safety goggles, a non-sparking shovel, Tyvek® suits and more. An equipment list can be attached to the cabinet, then checked periodically to confirm that it's fully stocked. The cabinet is painted HazMat yellow for quick identification. Models include a three-drawer mobile unit that can be quickly wheeled to a spill site, a stationary storage cabinet with two drawers and a hinged door, as well as other models. Drawer dividers in both cabinets can be configured to meet the exact needs and inventory requirements of any customer.

Stanley Vidmar® hazardous storage Safety Cabinets are designed to store one of three classes of hazardous materials: acids/corrosives, paint/ink, or flammable liquids. The two door cabinets come in a variety of sizes and can be custom configured with shelves for storing up to 60 gallons in various container sizes. They have double walls of 18-gauge steel on the top, sides, and bottom. High-gloss, epoxy powder coatings, inside and out are color coded based on the content category. Each cabinet is also visibly labeled.

About Stanley Vidmar
Stanley Vidmar offers storage solutions to all industries, with modular, space-saving systems that provide quick, safe access to parts, tools and supplies. A Stanley® Vidmar® system can maximize valuable floor space while providing an integrated solution for inventory control. Customers can arrange for a free analysis of their storage needs by calling 1-800-523-9462. Detailed information about Stanley Vidmar products is available online at www.stanleyvidmar.com.

Tyvek is a registered trademark of E. I. Du Pont de Nemours & Co.

Customer Contact:
Stanley Vidmar Storage Technologies
11 Grammes Road
Allentown, PA 18103
800-523-9462
Fax:1-800-523-9934 3
www.stanleyvidmar.com
vidmar@stanleycustomercare.com

More from Safety & Security Equipment