Cabinet Oven cures rubber parts.
Press Release Summary: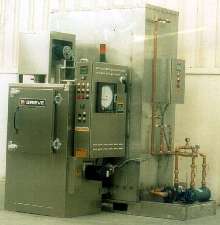 With workspace dimensions of 20 x 20 x 26 in., 500°F, electric No. 912 oven has stainless steel exterior and type 430 stainless steel interior with 4 in. thick insulated walls. It provides 10 KW with Incoloy-sheathed, tubular heating elements, and 600 cfm, ½ hp recirculating blower that generates horizontal airflow across workload. Features include 325 cfm powered forced exhauster, motorized damper, and digital indicating temperature controller.
---
Original Press Release:
500°F Electric Cabinet Oven
No. 912 is an electrically-heated, 500°F cabinet oven from Grieve, currently used for curing various rubber parts. Workspace dimensions measure 20"W x 20"D x 26"H on this oven, which features a stainless steel exterior with #4 brushed finish and a Type 430 stainless steel interior with continuously backwelded seams and 4" thick insulated walls. 10KW installed in Incoloy-sheathed tubular heating elements and a 600 CFM, 1/2-HP recirculating blower provide heated horizontal airflow across the workload. This oven includes a 325 CFM powered forced exhauster, as well as a motorized damper on the exhaust for accelerated cooling. The oven exhaust discharges into a Type 304 stainless steel scrubber unit with brass piping. The scrubber uses recirculated water sprayed by a 1-1/2-HP pump into the exhaust to remove particulates. No. 912 has a digital indicating temperature controller, 10" diameter circular chart recorder, a fused disconnect switch and eight permanently-mounted survey thermocouples connected to a jack strip on the oven's control panel. For more information, please contact: THE GRIEVE CORPORATION, 500 Hart Road, Round Lake, Illinois 60073-2898 USA. Phone: (847) 546-8225. Fax: (847) 546-9210. Web: www.grievecorp.com. Email: sales@grievecorp.com. Attention: Frank Calabrese.
More from Computer Hardware & Peripherals