Cabinet Door Lifts and Stays control quiet opening/closing.
Press Release Summary: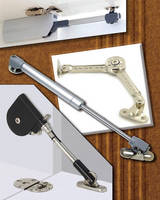 Available for vertical and lateral, wood and aluminum cabinet doors, Soft Closing Door Lifts and Stays eliminate slamming doors and do not require any lubrication. Design enables left and right cabinet door installation with specific degrees of openings and closing speeds that can be set by end-user by turning screw. Able to be used with cabinet doors of varying weights, products incorporate damper technology for smooth, quiet operation. Mounting hardware is usually provided.
---
Original Press Release:

Outwater Introduces it Soft Closing Door Lifts and Stays



No more slammed doors!  Outwater [Outwater Plastics Industries, Inc. + Architectural Products by Outwater, LLC] has added Soft Closing Door Lifts and Stays for Cabinet Doors to complement its ever-increasing line of standard and specialty application hinges and accessories already offered. 



Cost effectively priced to provide great value, Outwater's vertical and lateral door Soft Closing Door Lifts and Stays are not only appropriate for use with wood and aluminum cabinet doors, they require no lubrication and can be used with cabinet doors of varying weights.



Comprising a sleek, compact design, Outwater's Soft Closing Door Lifts and Stays enable left and right cabinet door installation with specific degrees of openings and closing speeds that can be readily set by the end user with just the turn of a screw.  Furthermore, because of their patented damper equipped technology, Outwater's Soft Closing Door Lifts and Stays provide smooth and quiet operation.



Most of Outwater's Soft Closing Door Lifts and Stays come with all necessary mounting hardware.



For further product information, please click the enclosed links or copy and paste them into your web browser:



Link #1 (Outwater's Soft Closing Door Lifts): http://www.outwatercatalogs.com/lg_display.cfm/catalog/Master_2012?useSearchForm=singlepage=308 



Link #2 (Outwater's Adjustable Soft Down Stay):

http://www.outwatercatalogs.com/lg_display.cfm/catalog/Master_2012?useSearchForm=single&page=309



Link #3 (Outwater's Vertical Swing Up Mechanism + Horizontal Bifolding Door Mechanism):

http://www.outwatercatalogs.com/lg_display.cfm/catalog/Master_2012?useSearchForm=single&page=310



Link #4 (Outwater's Soft Down Stay):

http://www.outwatercatalogs.com/lg_display.cfm/catalog/Master_2012?useSearchForm=single&page=311



Link #5 (Outwater's Soft Closing Lid Stay):

http://www.outwatercatalogs.com/lg_display.cfm/catalog/Master_2012?useSearchForm=single&page=312



YouTube #1: Outwater's Soft Closing Lid Stay SLS Series:

http://www.youtube.com/watch?v=Xutg_us4oTw



YouTube #2: Outwater's Horizontal Bifolding Door Mechanism HBFN Series:

http://www.youtube.com/watch?v=Jj-bXagbw50



YouTube #3: Outwater's Soft Closing Mechanisms OVL Series

http://www.youtube.com/watch?v=L9jRExBHCwA



YouTube #4: Outwater's Adjustable Soft Down Stay NSDX Series

http://www.youtube.com/watch?v=2SxXmi1DcmU



YouTube #5: Outwater's Lateral Opening Door Hinge LIN Series

http://www.youtube.com/watch?v=_i8p7V5e9Js



About Outwater [Outwater Plastics Industries, Inc. + Architectural Products by Outwater, LLC]: Outwater can be contacted Toll Free at 1-800-631-8375 (For sales and product information in the USA & Canada) / 1-201-498-8750 (For sales and product information outside of the USA & Canada) or viewed online at www.outwater.com



From the vendor of a single product in August 1972, Outwater Plastics Industries, Inc. + Architectural Products by Outwater, LLC, with sales and distribution facilities in New Jersey and Arizona, are recognized today as well established international manufacturers and stocking distributors of more than 65,000 standard and innovative component products required by woodworkers, cabinet and furniture manufacturers, builders, remodelers, designers, architects, point-of-purchase and display fixturing manufacturers, OEM's, as well as a very diversified range of other commercial and retail end users.



Major Product Categories include Plastic & Aluminum Extrusions; Lighting and Lighting Accessories; Furniture, Cabinet & Store Fixture Components; Knobs & Pulls; Casters; Fasteners; Laminates; The FOGA Exhibit & Display Fastening System; The Klem Connector; Literature Displays; Slatwall; Sign Holders; P.O.P Components; Display Motors & Turntables; Pedestals; Injection Molded Parts; Brass Tubing & Fittings; Surfacing Materials; Interior & Exterior Polymer & Wood Architectural Mouldings & Millwork; ORAC DECOR and DEM Architectural Mouldings & Millwork; Columns & Capitals; Balustrading; Wrought Iron Components; Decorative Stamped Steel & Polymer Ceiling Panels; Wainscoting; Wall Coverings; Fireplace Surrounds; Plastic "Glass" Block; Plaster Architectural Elements; Period & Contemporary Hardware; Kitchen & Bath Accessories; Kitchen & Bath Cabinetry and Vanities… and so much more!



Contact:

Joey Shimm, Director of Marketing

Outwater Plastics Industries, Inc. + Architectural Products by Outwater, LLC

(201) 498-8750

More from Computer Hardware & Peripherals