C4221-4848 Extenders support 10Gig SFP module.
Press Release Summary: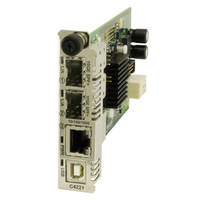 C4221-4848 Ethernet Fiber-to-Fiber Extenders feature two 10GBase-x (SFP+) ports and a 10/100/1000 Base-T copper port used for integrating 10/100/1000 Ethernet devices to a 10Gig Ethernet link. Units offer 1Gbps to 10Gbps bandwidth rate limiting and in-band management of local and remotely located card. Extenders support 100FX, 1000X and SGMII module and help in creating 10 Gig Ethernet backbone link between buildings in a large corporate campus or a college/university campus.
---
Original Press Release:
Transition Networks Enables Fiber-to-Fiber Network Extension with the Markets First 10 Gigabit Ethernet Remotely Managed Media and Rate Converter NID
Allows Service Providers to Deliver Tiered Ethernet Bandwidth Services from 1Gbps to 10Gbps
Transition Networks, Inc., a leading provider of innovative, high-value, data network integration solutions, today announced its ION 10 Gigabit Ethernet remotely managed media and rate converter network interface device (NID) (C4221-4848), the first 10Gbps Ethernet fiber-to-fiber extender on the market that provides bandwidth rate limiting from 1Gbps to 10Gbps and in-band management of both the local card and a remotely located card.
By using the C4221-4848 in an ION chassis at a customer's site, the service provider is able to establish a demarcation point between their network and the customer's network, to easily manage that link from the same card in a Central Office and provide the customer with a reliable service and consistent up-time.
The device has two 10GBase-x (SFP+) ports and a 10/100/1000Base-T copper port, which can be used to integrate legacy 10/100/1000 Ethernet devices to a 10Gig Ethernet link. The C4221 supports 100FX, 1000X, SGMII, and 10Gig SFP modules, which provides flexibility when connecting legacy devices to 10Gig Ethernet backbones. Remote management is possible when two C4221 are linked together over fiber and one card is installed in a managed chassis while the other is installed in an unmanaged chassis.
The C4221 supports bandwidth allocation, allowing service providers to deliver the amount of bandwidth that is contracted with the customer. Service providers are able to deliver tiered Ethernet bandwidth services from 1Gbps to 10Gbps to their business customers with end-to-end visibility of the link status, and complete management control of the devices' configuration.
"The ability to remotely extend device management to the customer premise makes it possible for service providers to have the level of control they need for delivering Business Ethernet services," said Curt Carlson, Product Manager with Transition Networks. "The C4221 is a more cost effective solution than higher density Carrier Ethernet grade switches that include unnecessary features and cost for a customer demarcation device."
The C4221 can also be used by enterprises to create a 10 Gig Ethernet backbone link between buildings in a large corporate campus or a college/university campus and when used as a signal regeneration device, the C4221 can be used to extend 10 Gigabit Ethernet service over existing or legacy fiber infrastructure.
The NID can be used in a Transition Networks managed ION 19-slot chassis, the managed 6-slot chassis or in the in an un-managed 1-slot chassis.
The C4221 is available now. For more information, visit Transition Networks' Media Converters, Extenders, and NID solutions page https://www.transition.com/products/media-converters/c4221-4848/?utm_source=Press-Release&utm_medium=Public-Relations.
About Transition Networks, Inc.
Transition Networks, Inc. is an industry leader with 30 years of experience designing data network integration products that deliver the bandwidth, distance and security demanded by today's networks while future proofing for tomorrow. Offering support for multiple protocols, any interface, and a multitude of hardware platforms, including Hardened Ethernet, Carrier Ethernet, CWDM, 1G/10G Ethernet, SFPs, PoE and PoE+, Transition Networks gives you the power to deliver and manage traffic reliably over fiber in any data network – in any application – in any environment. Based in Minneapolis, Transition Networks distributes hardware-based connectivity solutions exclusively through a network of resellers in 50 countries. Transition Networks is a Communications Systems Inc. company (NASDAQ: JCS). For more information, visit us at www.transition.com.
More from Fluid & Gas Flow Equipment