C3M0065100K MOSFETS provide notch between drain and source pins.
Press Release Summary: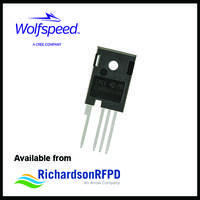 With minimal gate circuit ringing due to Kelvin gate connection, C3M0065100K Power MOSFET includes maximum junction temperature as 150 °C. Optimized for electric-vehicle charging systems and three-phase industrial power supplies, device offers output capacitance of 60 pF, output capacitance and reverse-recover time of 24 ns. As Ideal blend for conduction losses, unit features current rates at 100°C 22.5 A and total Gate charge of 5 nC.
---
Original Press Release:
Richardson RFPD Introduces New 1000 V SiC MOSFET from Wolfspeed
Optimized for electric-vehicle charging systems and three-phase industrial power supplies
Richardson RFPD, Inc. announced today the availability and full design support capabilities for a new silicon carbide power MOSFET from Wolfspeed, a Cree Company.
The 1000 V, 65 m§Ù C3M0065100K is in an optimized four-lead TO-247-4 package with a separate driver source pin. This package provides lower switching losses with minimal gate circuit ringing due to the Kelvin gate connection. The package features a notch between the drain and source pins, which increases creepage distance to best support operation of higher voltage discrete devices.
The new device is optimized for electric-vehicle charging systems and three-phase industrial power supplies, and it addresses many power design challenges by providing a unique device with low on-Resistance, low output capacitance and low source inductance, for an ideal blend of low switching losses and low conduction losses.
Key features of the C3M0065100K include:
• Blocking voltage: 1000 V
• Current rating at 100°C: 22.5 A
• Rds(on): 65 mΩ
• Gate charge total: 35 nC
• Maximum junction temperature: 150 °C
• Output capacitance (Coss): 60 pF
• Reverse-recovery charge (Qrr): 310 nC
• Reverse-recover time (Trr): 24 ns
A companion reference design is also available and includes schematics and BOM to reduce development time and increase time-to-market. These products were featured in a recent webinar that is available now on-demand.
To find more information or to purchase these products today online, please visit the C3M0065100K and CRD-20DD09P-2 webpages. The devices are also available by calling 1-800-737-6937 (within North America); or please find your local sales engineer (worldwide) at Local Sales Support. To learn about additional products from Wolfspeed, please visit the Wolfspeed storefront webpage.
About Richardson RFPD
Richardson RFPD, an Arrow Electronics company, is a global leader in the RF and wireless communications, power conversion and renewable energy markets. It brings relationships with many of the industry's top radio frequency and power component suppliers. Whether it's designing components or engineering complete solutions, Richardson RFPD's worldwide design centers and technical sales team provide comprehensive support for customers' go-to-market strategy, from prototype to production.
More information is available online at www.richardsonrfpd.com. Follow Richardson RFPD on Twitter at www.twitter.com/Richardson_RFPD.
To subscribe to Richardson RFPD's New Products e-newsletter,
visit www.richardsonrfpd.com/subscribe.
Best regards,
Elizabeth Whelan
Marketing Specialist
Richardson RFPD
1950 S. Batavia Ave
Suite 100
Geneva, IL 60134
P 630.262.6867
M 630.488.6184
Related