C125 to be Featured in Paris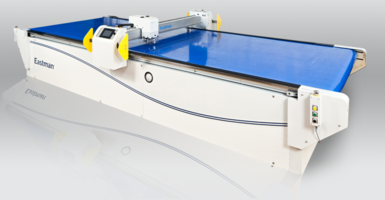 Eastman Machine Company (Buffalo, NY) will demonstrate conveyorized digital cutting and material handling for reinforcement materials including glass, carbon and aramid as well as nonwoven core materials during JEC World in Paris, March 6-8.
Automatic cutting is an integral part of composites manufacturing cells and the investment in this technology must be measured with reductions in manual labor, decreased scrap of expensive materials with improved throughput and quality of cut parts. The Eastman conveyor and integrated unwinding, rewinding and parts collection systems play an essential role in streamlining the queue from rolled goods through marked, cut and kitted parts.
The Eagle C125 conveyor system features an industrial cutting head inclusive of three cutting knives and stylus pen that can optionally be outfit with a router, one of several supplemental printing systems or bespoke tools. Industry-proven for supplying clean, smooth edges when cutting single- to low-ply layers of most flexible materials as well as unique combinations like Lantor Soric® which have an adhesive layer, protection foil and coremat in one. The microperforated PU belt surface ensures distributed vacuum hold-down and is easy to clean, reducing risk of contamination when cutting dry reinforcements, prepregs or core materials on one system.
Rigorous factory acceptance tests at global installations have proven the C125 capable of exceeding 0.5 tons of cut fiberglass per hour when cutting single ply and over 2.0 tons of fiberglass per hour when cutting four-ply. This equates to real operation cutting speeds averaging 90m/minute. This high volume output also maintains published accuracy and repeatability tolerances over parts exceeding 40m in length and equally when cutting small, intricate patterns. Eastman's industrial grade design ensures the integrity of critical production specifications are preserved and has proven to exceed production capacity of lighter-duty designs in the market.
Also highlighted at this year's JEC World is Eastman's JetPRO HR continuous inkjet printer. It is an optional accessory for the conveyor and static table cutting systems. The system features thermal, drop-on-demand inkjet printing technology capable of operating at print speeds of up to 152cm per second. The inkjet interface is available in several languages and capable of printing characters, linear and DataMatrix bar codes plus custom logos/graphics up to 600 x 600 dpi resolution. Easy to change and maintain, the ink cartridge design ensures clean and hassle-free use.
Special celebrations at industry events will be announced as Eastman proudly commemorates 130 years of making material cutting fast and efficient for its customers. Serving customers in more than 100 countries, the company is a global leader in the design and manufacture of manually-operated cutting machines, automated (CNC) cutting systems and complementary software technologies that increase cutting room efficiencies and reduce associated operating costs for customers in the energy, marine, composites, military, aerospace and industrial fabric industries. "We are excited that the company has reached this milestone," said Robert L. Stevenson, Eastman Machine Company President and CEO. "The company is proud to honor the outstanding contributions and energy of the people who have been a part of our history, and the current employees and customers that are inspiring our future. The continued focus on identifying and solving modern manufacturing problems has positioned the company well for the future; we plan to continue to provide reliable products, services and solutions that benefit our customers."
Contact This Company Download Spec Sheet
More from Health, Medical, & Dental Supplies and Equipment