C12 Logistics Industrial PC is suitable for warehouse environments.
Press Release Summary: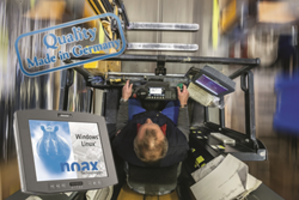 C12 Logistics Industrial PC feature 12 in. touchscreen and can be equipped with WLAN antennas in the front panel. Unit supports 802.11a/b/g/n WLAN standards and 2.4 GHz or 5GHz frequencies. Product can be mounted on the roof of the vehicle and comes with uninterrupted power supply. Computer's UPS can sustain operating temperatures down to -30°C. This device features IP65 rated rubber cap design, connector strip, t-track rails and VESA mounting holes.
---
Original Press Release:
noax Releases New Logistics Industrial PC
The new logistics terminal from noax Technologies AG is a hardware solution that meets the demands of modern warehouse environments.
At LogiMAT 2016 trade fair, noax Technologies AG presented a new logistics terminal designed for warehouse logistics. Based on the tried-and-tested C12 from the Compact Series, noax developed the new terminal to meet the demands of industrial conveyors, forklifts, and side loaders.
The new C12's compact size allows plenty of space for vehicle drivers in their cabs to comfortably and safely complete job functions. Despite its diminutive size, the 12" (307.3mm) touchscreen is easy-to-operate. Warehouse pickers, who are often under pressure to complete tasks at rapid speed, will have no issue adjusted to the small screen size.
In refrigerated areas of the warehouse facilities, for example, logistics workers are frequently using gloves to protect their hands. The unique responsiveness of the resistive analog touchscreen on the noax PCs allows workers to effortlessly log processes even with the gloves on. It saves time and accelerates tasks.
Logistics PC terminals on vehicles are constantly subjected to vibration and shock. The noax C12 can reliably handle all of these demands, a fact proven by the noax's 5M3 S&V certification. The shock-resistant hard drive and other industrial-grade components were specially developed to handle strict requirements.
To ensure smooth data transfer and efficient coordination of processes, noax logistics terminals also support 802.11a/b/g/n WLAN standards and 2.4 GHz or 5GHz frequencies. The WLAN antennas cab be integrated in the front panel or can be mounted outside of the terminal, for example, on the roof of the vehicle. If no WLAN is available, despite the need to transfer data within a network, noax also offers the option of WWAN transmissions on UMTS systems.
Most modern forklifts and conveyors are equipped with computers. However, power is often interrupted, usually when the vehicle is powered up. If the computer on the forklift is already on, this can result in a sudden shutdown and loss of important data. noax logistics terminals are equipped with an uninterrupted power supply (UPS) which prevents unwanted power disruptions. This feature can briefly bridge the power outage, avoiding loss of data and keeping information visible to operators. The integrated UPS can withstand extreme operating temperatures down to -30°C, making them ideal for deployment in freezer warehouses.
The easily accessible USB connector on the front panel of the noax logistics terminal allows the transfer of data from a USB stick or other peripheral devices. The connection is completely sealed with an IP65 rated rubber cap design. Regardless, if the rubber cap is not attached, water and dirt will not be able to enter the inside the PC. The sophisticated noax concept proves to be rugged and reliable when conveyor vehicles are subjected to harsh outdoor weather conditions.
The compact logistics terminals have t-track rails and VESA mounting holes allowing for easy integration with conveyors, high-rack stackers and other logistics vehicles. The cleverly designed connector strip also allows for quick assembly and disassembly of the plug cover, which permits easy servicing options.
Like all noax industrial PCs, the logistics terminal is waterproof and dustproof with an IP65 rating. The new terminal offers noax customers an optimal hardware solution that meets the demands of modern inventory management systems.
Related