C-Band Circulator allows output tuning to desired voltage/power levels.
Press Release Summary: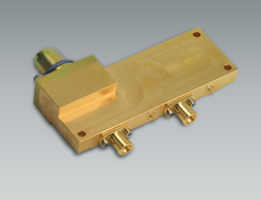 Integrating 75watts CW forward and reverse power detectors, 4-ported and ferrite-based C-band Circulator offers radar and communications system designers unique solution to enhance signal clarity. Including low insertion loss of 0.4 dB, circulator comes with minimum isolation of 20dB. Featuring VSWR of 1.25:1, unit is housed in aluminum body weighing 5-ounces. Device includes detection calibration circuit and high power beryllium oxide termination.
---
Original Press Release:
C-band Circulator Allows Radar & Comms Designers to Create Cleaner Signals
TRAK, a Microwave brand of Smiths Interconnect, has announced it has added a 4- port, ferrite-based, C-band Circulator to our line of products. Integrating forward and reverse power detectors that operate up to 75 Watts CW, TRAK offers Radar and Communications Systems Designers a unique solution for reducing components and lowering costs while striving to enhance signal clarity. This circulator also features a detection calibration circuit and a high power beryllium oxide (BeO) termination. For weight reduction, it's also been housed in a lightweight aluminum body weighing just 5-ounces. Designers can tune the detection output to their desired voltage/power levels.
Additional specifications include a low insertion loss of 0.4 dB, a minimum isolation of 20 dB, and a VSWR of 1.25:1.
For more information on the C-band Circulator or our other products, please visit www.TRAK.com.
About TRAK
TRAK Microwave Corporation designs and manufactures RF and microwave passive components and subassemblies for the defense, space and established reliability industrial communities. The products include a range of standard products and application specific solutions in coaxial, microstrip or waveguide technology which provide our customers and prospective customers with a broad choice of technologically differentiated solutions with an unrivalled existing portfolio of ferrite isolators, circulators, transitions, terminations, loads and couplers optimized to meet exacting requirements and environments.
About Smiths Microwave
Smiths Microwave, www.smithsmicrowave.com is a leading provider of components, sub-assemblies, antennas and system solutions, primarily for defense, aerospace, and telecom applications, that test, filter, protect, and process high-frequency signals for wireless communication networks. As a family of brands, Kaelus, RadioWaves, TECOM, TRAK, Transtector, PolyPhaser, LORCH, TRAK Limited, Millitech, EMC Technology, and Florida RF Labs provide exacting solutions for antenna systems for the military and commercial aerospace, transceivers, frequency sources, timing systems, component applications and a wide range of innovative RF, Microwave and surge protection solutions for the wireless telecommunications sector.
Alongside Smiths Connectors and Smiths Power, Smiths Microwave is part of the Smiths Interconnect division of Smiths Group, www.smiths.com, a global leader in applying advanced technologies for markets in threat and contraband detection, energy, medical devices, communications and engineered components. Smiths Group employs more than 23,500 people in over 50 countries.
For more information contact:
Mark Cressman
Smiths Microwave Subsystems
813-901-7200
More from Packaging Products & Equipment