C&K Introduces Customizable Tactile Switches to Achieve Exact Sound and Feel for Gaming Experience
Press Release Summary: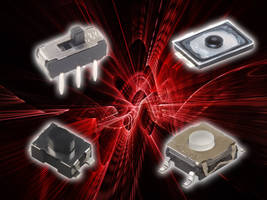 The KMT0 series switch is ideal for high-performance gaming equipment and accessories
The nano-miniature SMT top-actuated switch has operating life to a million cycles
Ability to withstand harsh environments and operating conditions
---
Original Press Release:
C&K Announces Robust and Ultra-Compact Tactile Switches 
for Gaming Controllers and Accessories

Newton, Mass., –  January 29, 2019: C&K, one of the world's most trusted brands of high-reliability connectors, announces an expansive switch portfolio for designers of games controllers and gaming accessories. It offers a broad range of miniature tactile, ultra-miniature tactile and micro miniature tactile switches for PCB mounting. Designed for the most demanding applications, the switches can be customized in order to achieve the exact sound and feel desired for the perfect gaming experience.
The KMT0 series nano-miniature SMT top-actuated switch comes with the smallest footprint and thickness and an integrated actuator. With operating life to a million cycles, excellent haptics, and ability to withstand harsh environments and operating conditions, it's an ideal switch for high performance gaming equipment and accessories such as virtual reality (VR) headsets and mobile gaming controllers.
Other popular switch choices for both mobile and console based gaming products include the KXT3 and KSC series tact switches. The KXT3 series ultra-low profile top-actuated tactile switch is reliable and long-lasting, built to meet the specific needs of engineers creating the next generation of gaming devices. The switch has a 3.0 x 2.0 mm footprint, 0.6 mm thickness and a high number of cycles. The KSC2 and KSC4 series of sealed tactile switches are IP67 rated and have soft actuators for the haptic experience preferred by most gamers. They meet the size and performance requirements of products with small surface areas, but can also withstand the harsh usage conditions such as vibration and shock typical of serious gamers.
For gaming accessories such as headphones and VR headsets, popular tact switches include the KMR4, PTS810, PTS830, and the side mounted KMS. Miniature slide switches such as C&K's JS and JSM series are also commonly used on headphones and gaming headsets. The expansive switch portfolio and unmatched custom design capabilities ensure consumer product designers can find the correct switch.
When designing keyboards for gaming use, it's critical that the parts used are reliable and guaranteed to last a long time. The KBD series keyswitches provide high performance and long life cycle that high usage gamers depend on. With cycle life to 50 million cycles and a variety of actuation forces, the KBD is an excellent choice for high end gaming keyboards.
Mike Bolduc, Global Marketing Manager, C&K, commented: "Designers and purchasers of components for controllers and gaming accessories are looking for reliable switches which can fit into a limited space, adaptable haptic properties and solutions that are suitable for customization to set them apart from market competitors. Our portfolio ticks all these requirements among others."    
"When it comes to the ultra-competitive consumer gaming market, the performance of the controller and gaming accessories can often make or break the experience. The performance of these devices can depend in large part on the myriad switches each contains – get those right, and you're onto a winner," he adds.
The consumer gaming market is booming. Although mobile gaming is the real growth segment, both PC and game consoles continue to hold their own. The latest Global Games Market Report from Newzoo forecast that 2.3 billion gamers across the globe will have spent $137.9 billion on games in 2018, an increase of 13.3% compared to a year earlier
For more information on C&K's new switches for gaming consoles and accessories, click here: https://www.ckswitches.com/markets/consumer/
About C&K
Founded in 1928, C&K is one of the world's most trusted brands of high-quality electromechanical switches. The company's unmatched custom design capabilities are recognized globally by design engineers who demand reliable switch performance. C&K offers more than 55,000 standard products and 8.5 million switch combinations to companies that design, manufacture and distribute electronics products. Used in automotive, industrial, IoT, wearables, medical, telecom, consumer products, aerospace and POS terminals, C&K products include tactile, pushbutton, snap-acting, toggle, rocker, detect, DIP, keyswitch, navigation, rotary, slide, switchlock, thumbwheel, smart card readers, high-rel connectors and custom assemblies. C&K is headquartered in Newton, Mass. with global design centers in Newton Mass., Dole France and Huizhou China. For more information, please visit www.ckswitches.com or connect with us on LinkedIn and Twitter.