Byora Introduces Next Generation Miniature Cold Headed Components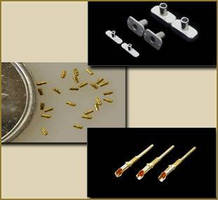 Byora introduces next generation miniature cold headed components with the advancement of their technology.

Since 1959, Byora's unique vertical integration of designing and constructing their own cold heading machines for their own production has made Byora of Japan the world leader in precision micro miniature cold headed parts for the medical, electronics, automotive, and many other industries.



Byora Research and Development of cold forming technology is expanding their limits of cold forming of miniature components providing significant cost savings and higher quality and consistency.



Byora specializes in converting parts that have been traditionally machined to the more efficient cold forming method of production.



Byora manufactures parts as small as .279mm (.011 inches) to exacting tolerances and the company is able to achieve complex components in both the small and large diameter ranges. The company maintains a cutting edge research and development building strictly dedicated to expanding the limits of cold heading and form rolling technology. It is with such extensive research and development that the next generation of cold forming technology was born.



Micro form rolling technology is the other area of expertise for Byora.



Byora is the world leader in micro forming technology and special cold headed parts. Their success is attributable to their unyielding commitment to research and development of cold formed and form rolled components. The main industries served are electronics, medical, and automotive. The vertical integration includes but is not limited to design and construction of production machines for internal use, plating, heat treating, clean room facilities, and more.

More from Agricultural & Farming Products