Butterfly Valve is suited for corrosive applications.
Press Release Summary: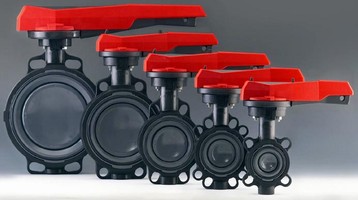 Available in 2-8 in. sizes, corrosion-resistant valve features modular design with variety of seals and choice of glass filled polypropylene wafer body (Type 567) or epoxy coated iron lug body (Type 568). Valve is made from double eccentric disk design and integrates electric position indicator as well as ergonomic, lockable hand lever. Wetted inner body, disk, and bearings are made of same material as corresponding pipe material, which can be PVC, CPVC, ABS, Beta PP, or SYGEF® PVDF.
---
Original Press Release:

GF Piping's New Butterfly Valve Features Excellent Sealing and Safety Features for a Variety of Corrosive Applications



TUSTIN, Calif. - June 14, 2006 - GF Piping has announced the immediate availability of the new Type 567/568 Butterfly Valve. The new corrosion-resistant valve incorporates several new design features that result in long service life, high safety, excellent sealing capabilities, and modular flexibility. Typical applications include industrial water treatment, potable water treatment, swimming pools, water parks and waste water systems in such industries as chemical, chemical distribution, electroplating and power plants.

The Type 567/568 Valve series features a double eccentric disk design typically found only in high-end metallic butterfly valves. This double eccentricity reduces seal friction and improves seal wear characteristics, resulting in longer service life, minimal maintenance and better protection against pressure surges. The double eccentric design also lowers the torque required to operate the valve, making for easy manual operation and use of smaller actuators at a significantly reduced cost.

The Type 567/568 also features a unique sealing technology that enhances the functionality of the valve while eliminating the need for additional gasket seals. Shaft seals incorporate a double o-ring to protect against external leakage. A disk seal replaces the traditional rubber liner to allow the disk to completely disengage from the disk seal upon valve opening. This feature further reduces friction and improves wear capabilities. The disk seal design also incorporates a cross-sectional profile that keeps the seal mechanically retained in the valve body. And finally, a specially engineered body seal features a Q-shaped O-ring that eliminates the need for flat gaskets and is compatible with any flange adaptor design, including those with serrated faces.

The new butterfly valve offers a modular design with choice of glass filled polypropylene wafer body (Type 567), or epoxy coated iron lug body (Type 568). In either style, the wetted inner body, plus the disk and bearings, are made of the same material as the corresponding pipe material for improved corrosion and chemical resistance. The inner body, disks, and bearings are available in PVC, CPVC, ABS, Beta PP (polypropylene) and SYGEF® PVDF (polyvinylidene) materials.

Designed with safety in mind, the lockable hand lever is manufactured from high strength PPGF (polypropylene, fiberglass reinforced). The ergonomic lever also features a 5 degree ratchet setting with six engagement teeth that ensures precise and safe positioning of the lever and eliminates incidental movement or damage from accidentally bumping the handle. Other safety features include an integrated electric position indicator in the mounting flange that visually shows whether the valve is open or closed, providing for maximum operator safety. An index plate clearly indicates the angle opening in degrees.

The Type 567/568 Butterfly Valve is available in sizes 2" to 8" (d63 to d225) and is offered with a variety of modular components resulting in a multitude of combination possibilities for optimum flexibility. Examples include manual valves with hand lever or reduction gear, electric or pneumatic actuation, EPDM or FPM seals, five types of limit switches, lug or wafer styles, and fine adjustment option for additional flexibility of disc angle control.

GF Piping supplies a full range of plastic pipe, fittings, tubing, valves, actuators, rotameters, fusion machines, secondary containment, tank linings, heat exchangers, custom products, and sensors and instrumentation for industrial process control. For further information, please contact George Fischer, Inc., 2882 Dow Avenue, Tustin, CA 92780-7258; Toll Free (800) 854-4090, Fax (714) 731-6923; e-mail: us.ps@georgfischer.com; Web: www.gfpiping.com

More from Electrical Equipment & Systems