Butterfly Valve comes in diameters up to 12 in.
Press Release Summary: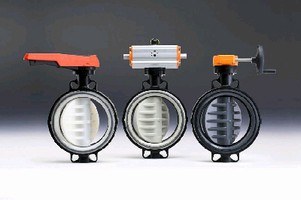 Rated to 150 psi, Type 567 Butterfly Valve features double eccentric disc design for minimized seal friction and protection against pressure surges. With no gap between disk and seal, particles wash away, preventing build-up that can obstruct flow. Corrosion-resistant, bi-directional valve utilizes Q-shaped O-ring that eliminates need for flat gaskets and is compatible with any flange adapter design. Inner body, discs, and bearings are available in PVC, CPVC, PP, and SYGEF® PVDF materials.
---
Original Press Release:

GF Piping Systems' New Large Diameter Butterfly Valve Features Double Eccentric Design, High PSI Rating and Excellent Corrosion Resistance



TUSTIN, Calif. - Feb. 29, 2008 - GF Piping Systems has introduced the new Type 567 Butterfly Valve in large diameter sizes up to 12 inches. The new corrosion-resistant valve incorporates a double eccentric operating principle that provides improved wear and easier operation over traditional eccentric style butterfly valves. Typical applications include industrial water treatment, potable water treatment, swimming pools, water parks and waste water systems in such industries as chemical, chemical distribution, electroplating and power plants.

Key to the valve's double eccentric disk design is the off-center shaft that allows the disc to completely disengage from the disc seal, even when partially open. This reduces seal friction and improves seal wear characteristics, resulting in longer service life, minimal maintenance and better protection against pressure surges. The double eccentric design also lowers the torque required to operate the valve, making for easy manual operation and use of smaller actuators at a significantly reduced cost. And with no gap between the disc and the seal, particles wash away, preventing potential build-up that can obstruct flow.

Other outstanding characteristics include bi-directional capability and a high psi rating not normally associated with large diameter sizes. "Typically, 10 and 12-inch size valves are only rated to 100 psi," explains Brian Gordon, GF Piping Systems Product Manager. "The Type 567 is one of the few large size butterfly valves on the market that offers 150 psi. With this capability, it can meet a broader range of application requirements."

The Type 567 also features a specially engineered body seal with a Q-shaped O-ring that eliminates the need for flat gaskets and is compatible with any flange adaptor design, including those with serrated faces. The wetted inner body, plus the disc and bearings, are made of the same material as the corresponding pipe material for improved fit we well as corrosion and chemical resistance. The inner body, discs, and bearings are available in PVC, CPVC, PP (polypropylene) and SYGEF® PVDF (polyvinylidene) materials.

The new valve is offered with a variety of modular components for optimum flexibility. Examples include manual valves with hand lever or gear operated wheel, electric or pneumatic actuation, positioner for throttle or flow control, and EPDM or FPM seals, five types of limit switches, and fine adjustment option for additional flexibility of disc angle control. Both manual and actuated versions include electronic feedback, particularly important for more sophisticated fluid handling systems.

GF Piping Systems supplies a full range of plastic pipe, fittings, tubing, valves, actuators, rotameters, fusion machines, secondary containment, tank linings, heat exchangers, custom products, and sensors and instrumentation for industrial process control. For further information, please contact GF Piping Systems, 2882 Dow Avenue, Tustin, CA 92780-7258; Toll Free (800) 854-4090, Fax (714) 731-6923; e-mail:;
Web: www.gfpiping.com

Contacts:
GF Piping Systems
Brian Gordon
Phone (714) 731-8800
brian.gordon@georgfischer.com

More from Laboratory and Research Supplies and Equipment