Busway Systems include transient voltage surge suppression.
Press Release Summary: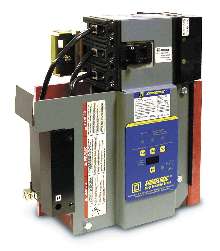 SURGELOGIC® TVSS, incorporated into I-Line II feeder and plug-in Busway Systems, provides added protection in commercial and industrial applications. Busway systems offer fast installation; low energy cost through lower voltage drop, which results from lower impedance; and versatile construction that allows product to be reconfigured and expanded.
---
Original Press Release:

Internal TVSS Enhances Performance, Protection Of Efficient, Economical Square D I-Line® II Busway


PALATINE, Ill. - July 8, 2003 - Square D/Schneider Electric has added internal SURGELOGIC® transient voltage surge suppression (TVSS) as a new feature of its I-LINE II line of busway, providing even better performance and protection to an already-economical product for commercial and industrial applications. Previously in 2003, the company has leveraged its expertise in surge suppression by adding internal TVSS to products such as panelboards, switchboards and switchgear.

"Facility managers and consulting engineers are now coming to grips with a problem Square D/Schneider Electric has been studying and talking about for many years - the threat of transient voltage surges," said Lane Jensen, SQUARE D product manager. "It's very important to protect busway and other electrical distribution equipment from surges, because damages from transient voltage surges cost companies billions of dollars for direct damage and resulting productivity losses."

The company's research indicates that the best way to ensure cost-effective power quality and protect equipment from transient voltage surge damage is to use surge protective devices that are built directly into end-user equipment, such as busway. Adding surge protective capability to I-LINE II busway adds considerable value to a product that already is inherently cost-effective because it is can be reconfigured and is quick and simple to install.

The SURGELOGIC devices are now available for both styles of I-LINE II busway - feeder and plug-in - and are designed specifically for integration with SQUARE D brand equipment. While busway is typically more versatile and easier to install than cable and conduit, I-LINE II busway provides several specific advantages: simple, fast installation; lower energy costs through lower voltage drop, which result from lower impedance of I-LINE II busway; versatile construction that allows the product to be reconfigured and expanded; and space savings due to light, compact construction.

For more information about the complete line of SURGELOGIC surge protective devices from Square D/Schneider Electric, call 1-800-392-8781, visit www.SquareD.com or send an e-mail message to help@SquareDinfo.com.

Headquartered in Palatine, Ill., the North American Operating Division of Schneider Electric had sales of $2.7 billion in 2002. The North American Operating Division is one of three
geographic divisions of Schneider Electric, headquartered in Paris, France, and markets the Square D, Telemecanique and Merlin Gerin brand products to customers in the United States, Canada and Mexico. In the United States, Schneider Electric is best known by its flagship Square D brand, with TELEMECANIQUE becoming increasingly known in the industrial control and automation markets and supported by many Square D distributors. For 100 years, Square D has been a market-leading brand of electrical distribution and industrial control products, systems and services. Schneider Electric is a global electrical industry leader with 2002 sales of approximately $9.5 billion. Visit Schneider Electric at www.SquareD.com, www.schneider-electric.com, www.schneiderautomation.com or transparentfactory.com.

More from Controls & Controllers