Bus, Truck, and Trailer Washer cleans with brush with high pressure nozzles.
Press Release Summary: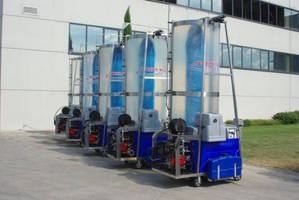 Mobile A-225-EZ-HP Combination brush and high pressure washer features brush-only inclination, almost 500 L water tank, and stainless steel frame. Other features include height- and direction-adjustable roof washing bar with 4 nozzles and adjustable chassis wash with 2 rotating nozzles. Unit also has high pressure gun with 40 ft hose and reel. Operating at 1,800 psi, mobile, diesel-driven system washes average buses and tractor-trailers in 6-8 min.
---
Original Press Release:
Speedy Wash Combination 'Mobile' Brush and High Pressure Wash
Bitimec is pleased to announce having programmed production of the NEW, mobile model A-225-EZ-HP Combination brush wash and High Pressure washer for washing buses, trucks, reefer-trailers and RVs. The new HP (high pressure) series was first produced as a custom made solution when the Alexandria (Egypt) APTA requested bids for mobile bus washing machines able to also wash the desert sand off the roofs of transit buses. Bitimec bid and subsequently produced 5 custom diesel engine powered machines matching all the requirements. The single-brush, diesel driven, mobile bus washing machines have all the winning features of the best selling Bitimec Speedy Wash Model A-225-EZ, such as; brush only inclination, large almost 500 litre water tank and all-stainless-steel frames. Plus these units have a custom made 120 Bar (1800psi) High Pressure Wash System for washing the roof and chassis comprising of:
o Height and direction adjustable roof washing bar with 4 HP nozzles
o Height and direction adjustable chassis wash bar with two HP rotating nozzles
o HP gun with a 12 meter (40') hose and reel This combination friction wash and the triple function High Pressure unit make this NEW Bitimec Speedy Wash A-225-EZ-HP machine the most complete production single brush washing system on the market. An average wash cycle would have the single operator driving the machine around the vehicle with the overhead 4 nozzle High Pressure wand engaged. At the same tome the machine is applying soap to the vehicle body, allowing the presoak to reach an optimum dwell time. Once the roof of the vehicle is cleaned, a wash-and-rinse cycle including the brush is done around the vehicle and one more cycle can be done in the opposite direction if needed. Average vehicles such as buses and tractor-trailers are washed in 6-8 minutes. Standard production of the new Bitimec Speedy Wash A-225-EZ-HP will begin in January 2011.
More from Cleaning Products & Equipment