Bus Converter has power density of 336 W/cu in.
Press Release Summary: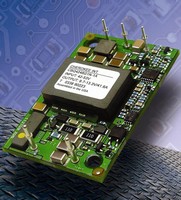 Housed in quarter-brick package, C-BUS CBQ4248G1 500 W, 4:1 intermediate bus converter delivers 42 A in 12 V output with 97% efficiency at full load without heatsink. Features include 42-53 Vdc input, remote on/off, and over-temperature, over-current, over-voltage, and input under-voltage protection, with open frame and base plate versions available. C-BUS powers non-isolated POL converters or discrete converters that are downstream in distributed power architecture.
---
Original Press Release:

Cherokee International Launches 500 Watt Intermediate Bus Converter



Quarter brick, 12Vdc C-BUS converter addresses datacom and networking trends

Tustin, Calif., March 20, 2006 - Cherokee International (NASDAQ: CHRK), a leading manufacturer of power supplies, today announced its first-to-market, 500 watt (W), 4:1 intermediate bus converter in a quarter-brick package. With 68 percent more power than the previous generation in the same quarter-brick size, the C-BUS (CBQ4248G1 model) delivers 42 amps (A) in a 12 volt (V) nominal output at nearly 97 percent efficiency at full load without a heatsink. Specifically designed for datacom, networking, and ATE applications using a two-stage driven power conversion architecture (AC to 48Vdc and 48Vdc to 12Vdc), Cherokee International's latest high-efficiency C-BUS converter provides an unregulated, 12Vdc isolated intermediate bus voltage. The intermediate bus powers non-isolated, point-of-load (POL) converters or discrete converters that are downstream in a distributed power architecture and boasts an increased efficiency to minimize losses during the two-stage DC power conversion.

With an input of 42Vdc to 53Vdc and boasting a high power density of 336W per cubic inch, Cherokee International's latest converter operates as a smart DC transformer that runs open loop, providing a balance in maximizing efficiency and output current while minimizing the component count for an economical solution.

"The need for more power is a chain reaction starting with chip sets that draw more current and culminating with an increased current demand - at both the POL-bus and intermediate-bus levels," said Mike Wagner, vice president of marketing for Cherokee International. "To help equipment designers who are now faced with putting two converters in parallel to address the increased current demand, we've introduced the C-BUS (CBQ4248G1) intermediate bus converter with 68 percent more power than prior generation quarter-brick bus converters. The CBQ4248G1 is both an economical and space-saving solution that eliminates the need for equipment designers to specify two converters to meet increased power demands."

The C-BUS converter meets basic insulation requirements of EN60950 and comes complete with vital industry standard features such as remote on/off, over-temperature protection, output over-current and over-voltage protection, and input under-voltage protection. Other features include 1500Vdc input to output isolation, no minimum load requirements, constant frequency operation for predictable EMI characteristics, low ripple and noise, and auto restart after fault shutdown. The C-BUS converter is offered in both open frame and base plate versions.

Pricing and Availability

The C-BUS (model CBQ4248G1) is available in both positive and negative logic modules and is priced at $48 for OEM quantities. Samples are available now through Cherokee International.

About Cherokee International

Cherokee International designs, manufactures and markets high-reliability custom and standard switch-mode power supplies for datacom, telecom, medical and process-control applications. With advanced manufacturing facilities and engineering expertise located worldwide, Cherokee applies a customer-focused approach to provide high-reliability power products to manufacturers, reducing time to market. As the leading provider of custom-designed power sources, Cherokee also delivers a complete range of standard and modified-standard AC/DC power supplies, AC/DC rectifiers and power shelves, and DC/DC converters. Cherokee International headquarters are at 2841 Dow Ave, Tustin, California 92780 and can be reached at +1 714 544 6665. European operations are at Boulevard de l'Europe 131, 1301 Wavre, Belgium and can be reached at +32 10 438 510. Cherokee International (China) Power Supply Ltd. is located at 1353 Chenqiao Road, Shanghia Sengpu Industrial Park Shanghai, 201401 China and can be reached at 021 6710 8910. Additional information about the company and its products is available at www.cherokeepwr.com.

Contact:
Mike Wagner, VP Marketing
Cherokee International
2841 Dow Avenue
Tustin, CA 92780
714-508-2071
mike.wagner@cherokeepwr.com

http://www.cherokeepwr.com

More from Machinery & Machining Tools