Bus Analyzer Software meets needs of avionics industry.
Press Release Summary: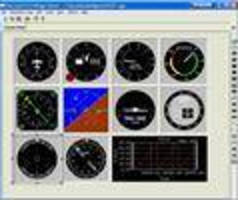 BusTools-1553 v7 is integrated, Windows-based application solution for MIL-STD-1553 test, analysis, and simulation. GUI enables rapid monitoring/analysis of bus traffic, creation/modification of messages while running, and control of multiple buses simultaneously. Efficient routing of traffic is enabled by Dynamic Bus Monitor stop/start feature, while Selective Data Watch allows selection of individual data words from bus messages to speed problem solving.
---
Original Press Release:

New 1553 Bus Analyzer from GE Intelligent Platforms Increases Productivity, Reduces Errors and Training Time



BusTools-1553 version 7 features intuitive, interactive GUI for ease of use

CHARLOTTESVILLE, VA - GE Intelligent Platforms today announced version 7 of the company's BusTools-1553 Bus Analyzer software application. Designed for analyzing, testing and simulating data traffic on the 1553 bus that is at the heart of many military avionics and spacecraft control systems, its GUI interface means that BusTools-1553 v7 is easy to use: training time is reduced, productivity is increased and the potential for errors is minimized.

"The avionics market is moving away from character-based bus analyzers in favor of more intuitive, GUI-based solutions that are much easier to use," said Ben Daniel, Business Manager for Avionics at GE Intelligent Platforms. "With the BusTools-1553 version 7 announcement, our spirit of partnership sees us making available a capability that has been much requested by our customers that will allow them to transition to future hardware platforms with minimal effort and expense. We expect its ease of use to be equally attractive to new customers, who will appreciate the sustainable advantage this increase in productivity will give them."

The BusTools-1553 version 7 data bus analyzer is an integrated, Windows-based application solution for MIL-STD-1553 test, analysis and simulation. It harnesses the power of GE Intelligent Platforms hardware interfaces on PCI, CompactPCI, PCMCIA, PC/104, PC/104-Plus, PC/AT, VME and VXI platforms for simplified control over simulation, display, data logging, playback and protocol analysis of MIL-STD-1553/1760 A and B networks (a separate version is available for MMSI/EBR-1553).

BusTools-1553 v7 is available for use with 1553 avionics products from GE Intelligent Platforms, and provides existing users with a straightforward migration path. It also provides support for converting the data files used by existing PASS3200 Bus Analyzer customers so they can retain their historical data while taking advantage of the latest generation of GE 1553 products.

Its intuitive, interactive GUI interface is designed to enable rapid monitoring and analysis of bus traffic, the creation/modification of messages while running, and display of multiple real-time engineering unit values and user-formatted graphs. Additional features include control of multiple buses simultaneously, injection/detection of errors and rapid filtering of displayed or recorded data for both live and replay modes.

This latest version of BusTools-1553 includes the new Dynamic Bus Monitor stop/start feature which allows users to dynamically achieve the most efficient routing of 1553 bus traffic on the fly by modifying the configuration of a network while simulated traffic is running.

As well as its new user interface, BusTools-1553 v7 includes a number of new features. GUI Widgets enhance ease of use, while a one page bus list editor is provided that replaces the previous version's multi-page editor, making it more user-friendly. By allowing a user to see all bus traffic messages in one window, users can quickly organize complex bus activity into an easy-to-read one page list to gain a clearer picture of bus traffic over a 1553 network.

BusTools-1553's unique Selective Data Watch feature allows quick selection of individual data words from any bus message: elusive system problems can be identified more rapidly using capabilities such as integrated high/low limit checking, real-time engineering unit display, DDE output, automatic limit event logging and its snapshot feature.

MIL-STD-1553 is a military standard published by the US DoD that defines the mechanical, electrical, and functional characteristics of a serial data bus. It has widespread use in military avionics and in spacecraft for on-board data handling for such activities as control of aircraft subsystems.

About GE Intelligent Platforms

GE Intelligent Platforms is an experienced high-performance technology company and a global provider of software, hardware, services, and expertise in automation and embedded computing. We offer a unique foundation of agile and reliable technology providing customers a sustainable competitive advantage in the industries they serve, including energy, water, consumer packaged goods, government & defense, and telecommunications. GE Intelligent Platforms is headquartered in Charlottesville, VA. For more information, visit www.ge-ip.com.

All trademarks are the property of their respective owners.