Burndy® to Feature ENFORCER(TM) Wrench, KOMPRESSOR(TM) Crimping Tool and IMPLO(TM) Connectors at ICUEE 2009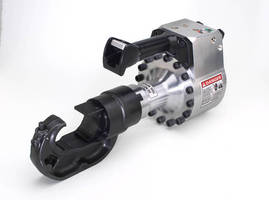 For more information, visit booth # 1647 at the Kentucky Fair & Exposition Center

BURNDY®, a leading manufacturer and provider of connector solutions to the industrial, energy, and application tooling industries, will showcase its ENFORCER(TM), model HIW716ENF hydraulic impact wrench, KOMPRESSOR(TM) hydraulic crimping tool and IMPLO(TM) connector products in booth #1647 at the International Construction and Utility Equipment Exposition (ICUEE), from October 6 -8 in Louisville, Kentucky.

The ENFORCER(TM) wrench, model HIW716ENF, is the lightest and most powerful 7/16" hydraulic impact wrench on the market. This powerful wrench simplifies and expedites hole drilling or hardware tightening and loosening with its unsurpassed 515 ft-lbs of output torque. The superior strength machined aluminum provides users with the lightest wrench in its class.

The BURNDY® LPHY750XT KOMPRESSOR(TM), a remote operated, low pressure (1500-2500 psi), hydraulic 12-ton crimping tool. The LPHY750XT features an industry-exclusive visual crimp indicator and is double acting for hydraulic ram advance and retract. The LPHY750XT also features an industry-exclusive spring back-up for ram retraction in case of hydraulic pressure loss.

Also on display will be IMPLO(TM) implosive connector products. These product offerings include IMPLO Jumper Terminals, IMPLO Full Tension Joins, IMPLO Dead End Joints, and IMPLO Repair Sleeves. Designed to accommodate a wide range of ACSR, ACSS, ACSS/TW, ASC, and ASC/TW conductors, IMPLO connectors provide consistent, smooth, high quality installations, and require no tools or dies. BURNDY IMPLO Dead End Joints are available in various dead end configurations, tap pad angles, and eyebolt versions. Jumper Terminals and Dead End Joints come with a 15 degree tap pad standard.

Press Contacts:

Kristin Nugent

617.367.0100 ext. 148

knugent@gr2000.com

About BURNDY®

Headquartered in Manchester, New Hampshire and with over 85 years of dedicated customer support in both service and product, our customers need look no further than BURNDY® for all their connector, tool, and accessory needs. BURNDY® is the only manufacturer to have the BURNDY® Engineered System of coordinating dies, connectors and tools. The three elements have been specifically designed to work together and engineered to meet stringent, accepted quality standards - allowing the user complete confidence in the integrity of the connection.

For additional information, contact us at 47 E. Industrial Park Drive, Manchester, New Hampshire, 03109, call Customer Service at 1-800-346-4175, or visit our website at www.BURNDY.com.

More from Machinery & Machining Tools