Burn Table Lift Magnet System moves multiple parts at once.
Press Release Summary: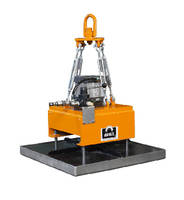 Available in 24, 48, and 120 in. designs with powerful magnetic circuit, Burn Table Lift Magnet System simultaneously moves multiple parts or cut-outs up and off burn tables. Advanced transfer system can also lift single sheets or plates up to 3 in. thick from stack to load table. When activated, stainless steel stripper pan retracts to engage steel parts with high magnetic holding force. To release, air cylinders push stripper pan away from magnetic head to create gap and break holding force.
---
Original Press Release:

New Eriez® Burn Table Lift Magnet System Enables Users to Transfer Multiple Cut Pieces from Burn Tables at Once



Erie, PA— The new air-operated Burn Table Lift Magnet System from Eriez® easily and quickly moves multiple parts or cut-outs up and off of burn tables. With a powerful magnetic circuit design, this advanced transfer system can also lift single sheets or plates up to three inches thick from a stack to load the table.



Eriez' Burn Table Lift Magnet System improves productivity and creates a safer work environment by eliminating manual handling of multiple parts and the need for operators to climb on burn tables. This system can positively and significantly impact a company's bottom line through reduced labor and table downtime.



This new Burn Table Lift Magnet System features an innovative design with an extremely powerful and wide magnetic surface area. When activated, a stainless steel stripper pan retracts to engage the steel parts with a very high magnetic holding force. To release, air cylinders push the stripper pan away from the magnetic head to create a gap and break the holding force.



Since Eriez' Burn Table Lift Magnet System utilizes permanent magnets and does not require a controller, there are no power failure concerns. Standard models include 24, 48 and 120-inch designs to accommodate most common plate or sheet sizes.



To learn more about the Eriez Burn Table Lift Magnet System, call (888) 300-ERIEZ (3743) and ask to speak with a lift magnet specialist. For more information on Eriez' complete line of lift magnets--available in both permanent and electro designs with various models, sizes and strengths to handle many different lifting jobs--visit http://ow.ly/VVpEk.



Eriez is recognized as world authority in separation technologies. The company's magnetic lift and separation, metal detection, fluid filtration, flotation, materials feeding, screening, conveying and controlling equipment have application in the process, metalworking, packaging, plastics, rubber, recycling, food, mining, aggregate and textile industries. Eriez manufactures and markets these products through 12 international facilities located on six continents. For more information, call toll-free (888) 300-ERIEZ (3743) within the U.S. and Canada. For online users, visit www.eriez.com or send email to eriez@eriez.com. Eriez World Headquarters is located at 2200 Asbury Road, Erie, PA 16506                  



Contact:

John Blicha, Eriez

jblicha@eriez.com

More from Architectural & Civil Engineering Products