Bunting® Launches Expanded ValueMag(TM) Product Line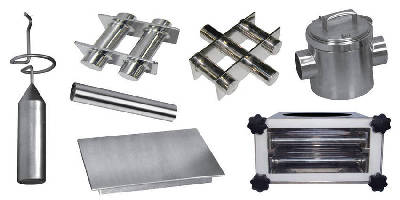 NEWTON, KS - Bunting® Magnetics Co. has expanded its magnetic separation ValueMag(TM) product line to offer our customers more options for use in their facilities. Beginning immediately, the ValueMag(TM) product line will include magnetic cartridges, plate magnets, grate magnets, liquid line traps, two-drawer grate-in-housing magnets and sight glass magnets. These new product choices join our existing magnetic holding assemblies as part of the ValueMag(TM) offering.

"In today's competitive economic situation, we felt it was important to provide our customers expanded off-the-shelf magnetic options," Robert J. Bunting, President of Bunting® Magnetics, said. "These new products will be available to ship upon order and allows us to provide a wider variety of great quality products at affordable pricing."

Beginning at 4 inches in length, Magnetic Cartridges are priced as low as $27.00 and available in Ceramic, Neo Power-Balanced® (NPB) and Neo High-Intensity (NHI) magnetic strengths. For Grate Magnets, starting at 4 inch by 4 inch, pricing begins at $41.00 and feature multiple sizes in Ceramic and NPB. Grate-In-Housing and Liquid Line Trap Magnets each have three sizes available while our Sight Glass Magnets offer four different sizes. Finally, our Plate Magnets selection has Ceramic and Rare Earth models in twelve sizes.

As part of the product launch, Bunting® is offering a 3% discount on all ValueMag(TM) products which are ordered online by credit card.

For more information on the ValueMag(TM) product line, visit www.value-mag.com. Call (800) 232-4359 or (847) 593-2060 (outside USA and Canada) for product information or to place an order by phone. For Bunting's magnetic separation equipment, visit our web site at www.buntingmagnetics.com. For more information, write Bunting Magnetics Co., 500 S. Spencer Avenue, PO Box 468, Newton, KS 67114-0468; call 1-800-835-2526 (US & Canada) or 1-316-284-2020; or send e-mail to [email protected].