Bunting® Expands Selection of Magnet Products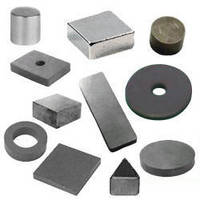 Thousands of Products Available Online, Shipment within 24 Hours

NEWTON, KS - Bunting® Magnetics Co. has greatly expanded the inventory of products now available for purchase online at www.buntingmagnetics.com. The new products consist of additions to the Bonded Neodymium, Sintered Neodymium, Samarium Cobalt, Alnico and Ceramic Magnet product lines. The selection includes more size and shape options for block, disc, plug and ring style of magnets. In addition, Bunting® has added a wide variety of magnetic catches, magnetic doorstops, and holding magnets to its offering.

"These new additions further complement the vast number of industrial magnets and magnetic products that we carry in stock", stated Don Lindstrom, Bunting® General Manager for the Magnet Materials Division. "We want to be the source for the full spectrum of magnets in the world...any magnet, available at any time. This expansion of our inventory brings us closer to that goal."

The new magnet products include several new grades. The grade of a magnet helps determine the strength of the magnetic characteristics within that magnet type. The number of different magnets now offered number over 1,300 unique part numbers, most all in stock, ready for immediate shipment. To learn more about magnets, anyone can visit www.buntingmagnetics.com/learn-about-magnets for a detailed explanation on magnetic properties. As part of the product launch, Bunting® is offering a 3% discount on all magnet products which are ordered online by credit card.

For more information on the Bunting® magnet materials product line, visit www.buntingmagnetics.com/products/magnets. For information on Bunting® Magnetics, visit the company's web site at www.buntingmagnetics.com. Or write Bunting® Magnetics Co., 1150 Howard Street, Elk Grove Village, IL 60007; call 1-800-232 -4359 (US & Canada) or 1-847-593-2060; or send e-mail to [email protected].