Bumpers and Grommets Available in Assorted Styles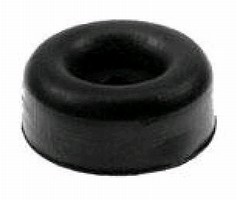 Miller Rubber Products is a one stop source for molded rubber parts from JIT (Just InTime) inventory. Stock products or custom manufactured to your size, shape or material spec. Now offering the most diverse selection in bumpers. Stocking a variety of styles with our expanded line of recessed bumpers includes five available profiles.

Miller Rubber recessed bumpers are offered in round top, flat top button and tapered designs. Stem and tack bumpers as well as machine screw bumpers are also available. Bumpers can be self adhering, these are the most popular. Molded, dipped, and extended rubber and plastic styles. Use our online Quick Find guide for specifications or call us direct at 1-800-782-7437 for friendly service, competitive pricing and inventory availability.

Take advantage of Miller's just-in-time inventory of molded rubber and plastic parts. Or Miller can custom manufacture to your size, shape and material specifications. Miller manufactures and distributes a large line of molded rubber parts and molded plastic parts. This includes grommets, bumpers, suction cups, crutch tips, cane tips, stoppers, plastic feet, lustre caps, spacers, washers, extrusions, rollers, sleeves, rings. The large assortment of bumpers include recessed, screw, tack, button, stem, end, and self adhering. We can basically make any rubber or plastic part to your specifcations.

Call or email to request samples.

Contact us at sales@millerproducts.com; or visit our website at www.millerproducts.com.

More from Packaging Products & Equipment