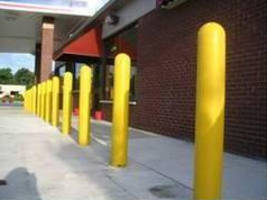 Detroit, Mich. Never paint bollards again and improve your facilities appearance with the Ideal Shield Bumper Post Sleeve. Sleeves come in two thicknesses the ¼" nominal wall and the 1/8" nominal wall to easily fit any setting. The Ideal Shield Bumper Post Sleeve is available in any color and logos can also be included. Available to fit any bollard size three inch and ten inch diameter and up to 84" tall. All Bumper Post Sleeves are cut custom height and are come with installation tape and instructions.

Bollard covers help reduce maintenance time and costs by eliminating the need to paint bollards. Ideal Shield Bumper Post Sleeves will not fade or crack and stand up great in high traffic areas.

To learn more about the Ideal Shield Bumper Post Sleeves, visit our website at www.idealshield.com or call 313-842-7290.

About Ideal Shield

Since 1996 Ideal Shield, headquartered in Detroit, Mich., has manufactured bumper post sleeves, guardrail and handrail. Manufacturing operations take place at five facilities throughout the U.S. As the holder of 43 patents, and an additional seven patents pending, including the patent for the original Bumper Post Sleeve, Ideal Shield provides protection solutions to fit many facility needs. For more information, visit www.idealshield.com.

Amanda Schmidke | Marketing Director | Ideal Shield

Phone: 313/551-2279 | Fax: 866/908-0218 | www.idealshield.com | www.idealsurplus.com

Check out the Ideal Shield website for even more maintenance free products!

Heavy Duty. Maintenance Free. Asset Protection by Ideal Shield.

More from Electrical Equipment & Systems