Bulkhead Systems helps users customize their vans.
Press Release Summary: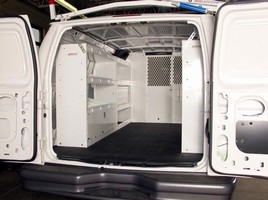 Featuring 16 gauge steel construction and 3/16 in. steel top mounting angles, WEATHER GUARD Van Solutions bulkheads fit Ford and Chevy vans. Bulkheads have 9 x 12 in. Dog Hatch(TM) in bottom for safe transportation of long-length material and include 14 in. wide steel shelving. Product's 57½ in. tapered high end panels allow closer installation to sidewall and provide additional cargo space in middle of both Sprinter and full-size vans.
---
Original Press Release:

New WEATHER GUARD® Van Product Lines Enhance End-User Productivity



CRYSTAL LAKE, ILL. - October 2006 - Knaack Manufacturing recently announced new bulkhead and shelving systems as a part of its WEATHER GUARD® Van Solutions brand, offering end users and fleet managers a better way to customize their vans for increased productivity.

The new WEATHER GUARD Van Solutions bulkheads universally fit Ford and Chevy vans. Additional new features include strong 16 gauge steel construction and 3/16" steel top mounting angles. Also, a 9" x 12" Dog Hatch(TM) in the bottom of the bulkhead allows easier and safer transportation of long-length material by utilizing the floor space in front of the bulkhead. All Van Solutions products come with a white power coat finish for extra visibility. For Sprinter vans, a 3" offset has been added to provide extended room for the driver.

Shelving for WEATHER GUARD Van Solutions also is new and improved to deliver increased floor space, added durability and enhanced safety. The 59-½" high end panels on the 14" wide jumbo knock down van shelving have been shortened to 57-½" to provide a better fit for Sprinter vans without blocking factory-installed lighting. On the 43-¾" and 57-¼" high shelving units, the end panels have been tapered, allowing closer installation to the sidewall and additional cargo space in the middle of both Sprinter and full-size vans.

With improved durability, the 14" wide fully welded van shelving now has enhanced steel construction and an improved taper end panel, allowing for closer installation to the sidewall and additional cargo space in the middle of full-size vans.

"Our focus is to continue to improve our Van Solutions so customers can customize their van workspace based on their specific needs and requirements, helping them stay organized and be efficient," said Todd Trocki, WEATHER GUARD Van Solutions product manager, Knaack Manufacturing. "Our new and improved product offerings reflect this commitment to continually try to enhance worker productivity and safety."

Knaack Manufacturing makes and markets a complete line of WEATHER GUARD Van solutions, including shelving, drawers, cabinetry and roof racks that can be custom-configured for industrial and commercial applications to provide maximum efficiency and organization. It also makes and markets WEATHER GUARD Truck Equipment and KNAACK Jobsite storage equipment. Learn more at www.weatherguard.com

For more information, please contact:
Web: www.knaack.com
E-mail: info@knaack.com

Emerson Professional Tools(TM)
Emerson Professional Tools, a business of Emerson, brings together technology and engineering to design and produce some of the highest-quality tools and equipment in the world. From wet/dry vacs to the industry's best-selling pipe diagnostic system, key brands include RIDGID®, KNAACK®, and WEATHER GUARD®. For more information, visit emersonprofessionaltools.com

About Emerson
Emerson (NSYE:EMR), based in St. Louis, Missouri, is a global leader in bringing technology and engineering together to provide innovative solutions to customers through its network power, process management, industrial automation, climate technologies, and appliance and tools businesses. Sales in fiscal 2005 were $17.3 billion. For more information, visit www.GoToEmerson.com

Corporate Contact:
Todd Trocki
815.459.6093

More from Mechanical Power Transmission