Bulk Metal Z-Foil SMT Resistor Networks come in BGA format.
Press Release Summary: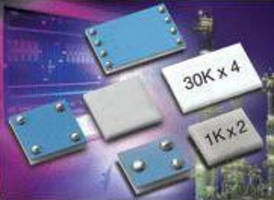 Comprised of 2-resistor VFB1012D voltage divider, 3-resistor VFB1515N, and 4-resistor VFB2028N, Bulk Metal® Z-Foil SMT resistor networks provide absolute TCR of ±0.05 ppm/°C from 0-60°C and ±0.2 ppm/°C from -55°C to +125°C, +25°C Ref. Characteristics include PCR tracking of ± 5 ppm at rated power and load life stability ratio of ±0.01% (100 ppm) for 2,000 hours at +70°C. Thermal stabilization time is less than 1 sec, rise time is 1.0 ns,, and resistance range is 100 W to 30 kW.
---
Original Press Release:

Vishay's New Ultra-High-Precision Bulk Metal® Z-Foil Surface-Mount Resistor Networks



Offer Industry's Best Combination of Stability Features in BGA Format: Low Absolute TCR of ± 0.05 ppm/°C, PCR Tracking of ± 5 ppm, Tight Tolerance Matching of ± 0.01 %, and Load Life Stability Ratio of ± 0.01 %

Vishay Foil Resistors Are Not Restricted to Standard Values, and Vishay Can Supply "As Required" Values (e.g. 1.049 kW or 7.56 kW at no Extra Cost or Delivery Time

MALVERN, Pa. - June 10, 2009 -Vishay Intertechnology, Inc. (NYSE: VSH) today announced the release of three new ultra-high-precision Bulk Metal® Z-Foil surface-mount resistor networks that offer the best combination of stability features ever achieved in the ball grid array (BGA) format. The devices provide absolute TCR of ± 0.05 ppm/°C from 0 °C to + 60 °C and ± 0.2 ppm/°C from - 55 °C to + 125 °C, + 25 °C Ref., PCR tracking ("due to self heating") of ± 5 ppm at rated power, and a load life stability ratio of ± 0.01 % (100 ppm) for 2000 hours at + 70 °C.

The resistor networks released today include the 2-resistor VFB1012D voltage divider, the 3-resistor VFB1515N, and 4-resistor VFB2028N. Built on Vishay's Bulk Metal Z-foil technology, the devices outperform all other resistor technologies available today for applications that require ultra-high precision and stability by providing a significant reduction of the resistive component's sensitivity to ambient temperature variations (TCR) and applied power changes (PCR).

The BGA devices provide tight tolerance matching of ± 0.01 % and TCR tracking of 0.1 ppm/°C between multiple resistors simultaneously etched on one piece of Foil on a common substrate. For designers, the electrical specifications of this integrated construction offer improved performance and better real estate utilization over discrete resistors and matched pairs.

By eliminating the need for wraparound terminations, the BGA packaging of the resistor networks virtually eliminates channel noise between the PCB to the resistive element, a primary cause of reduced system performance. While other resistor technologies can take several seconds or even minutes to achieve a steady-state thermal stabilization, the VFB1012D, VFB1515N, and VFB2028N devices have an almost instantaneous thermal stabilization time of < 1 second, and a nearly immeasurable 1.0-ns rise time, effectively without ringing.

The devices offer a broad resistance range from 100 Ω to 30 kW with a large variety of resistance ratios. Like all Vishay Foil resistors, the VFB1012D, VFB1515N, and VFB2028N are not restricted to standard values, and can be supplied with "as required" values (e.g. 1.049 kW or 7.56 kW) at no extra cost or delivery time.

Applications for the resistor networks include bridge networks, differential amplifiers, and ratio arms in bridge circuits for ultra-stable and high-reliability products, such as medical, test, and military equipment.

Vishay Foil resistors can be further enhanced by Post Manufacturing Operations (PMO) exercising after the manufacturing cycle is complete. Some of these exercises are a standard part of the manufacturing cycle and are only repeated during the PMO cycle to gain added stability or confidence in the product. The Foil resistor load-life curve shows an increase in resistance from the first load application, but flattens out to no change after 500 hours of loading. This knee in the load-life curve can be removed by a special accelerated load-life operation performed by Vishay, resulting in a flat response immediately after installation. Other resistive devices show a continuous change when subjected to these same stresses and are driven out of tolerance. Contact Vishay Foil Engineering sales (Foil@vishay.com) for assistance in specifying the PMO routine to be used in your application.

The VFB1012D, VFB1515N, and VFB2028N offer a power rating from 0.1 W per resistor at + 70 °C ; a maximum working voltage of 32 V for each element; a low voltage coefficient of < 0.1 PPM/V; current noise of < - 40 dB (4); and short-time overload of 0.01 % (100 ppm). The devices feature a non-inductive (< 0.08 µH), non-capacitive design, and offer the utmost in ESD immunity, withstanding electrostatic discharges up to 25 kV, for increased reliability. They are available with lead (Pb)-free and tin/lead alloy terminations.

Samples and production quantities of the new resistor networks are available now, with lead times of six to eight weeks.

Vishay Intertechnology, Inc., a Fortune 1,000 Company listed on the NYSE (VSH), is one of the world's largest manufacturers of discrete semiconductors (diodes, rectifiers, MOSFETs, optoelectronics, and selected ICs) and passive electronic components (resistors, capacitors, inductors, sensors, and transducers). These components are used in virtually all types of electronic devices and equipment, in the industrial, computing, automotive, consumer, telecommunications, military, aerospace, and medical markets. Its product innovations, successful acquisition strategy, and "one-stop shop" service have made Vishay a global industry leader. Vishay can be found on the Internet at www.vishay.com.

Bulk Metal is a registered trademark of Vishay Intertechnology, Inc.

More from Controls & Controllers