Miscellaneous Storage Equipment
Bulk Liquid Storage Solutions for the Paper Making Industry - Avoid Contamination of Latex & Other Specialty Coatings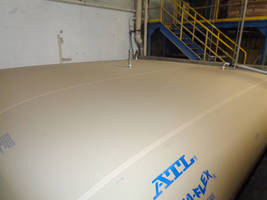 Aero Tec Laboratories Inc. (ATL), of Ramsey, NJ, the world leader in flexible containment technology since 1970, offers its bulk liquid storage solutions to the paper manufacturing industry. ATL's rugged, fully collapsible mil-spec fabric tanks are often used to store sensitive substances, such as latex, that are used in the paper production process.
ATL's flexible rubberized tanks protect its contents, whether it be latex or other specialty coatings, from both atmospheric and moisture related contamination, ensuring that no degradation occurs. Optional stainless steel hardware further combats against oxidation if water-based solutions are being stored. Many of the leading specialty paper manufactures rely on ATL's bladder tanks to produce an end product that boasts an extremely high level of cleanliness and quality.
ATL offers its line of liquid storage bladder tanks in standard configurations from 25 to 50,000 gallons. If factory floor space is a concern, ATL can custom engineer innovative geometries based on customer supplied specifications. Expedited service, typically 2-3 days, is also available in the case of an emergency situation.
For additional information on ATL's collapsible fabric tanks, including those for storing fuels, water and mild chemicals, visit pillowtanks.com.
For additional information please contact:
David Dack
VP of Sales
Aero Tec Laboratories, Inc.
45 Spear Road Corporate Park
Ramsey, NJ 07446
Tel: (201) 825-1400
Fax. (201) 825-1962
Toll Free: (800) 526-5330
Related