Bulk Filling System features high-lift drum dumper.
Press Release Summary: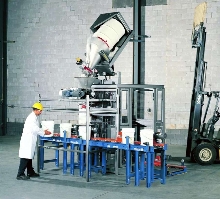 Bulk Filling System transfers bulk solid materials from drums to machine's fill head dust-free, fills pails by weight, and verifies fill weight accuracy. Drums are loaded at floor level onto platen that lifts hydraulically to form dust-tight seal between drum lip and gasketed discharge cone. Entire drum carriage elevates hydraulically, then tips, causing discharge cone to mate with gasketted receiving ring on filling machine's surge hopper lid.
---
Original Press Release:

Bulk Filling System With High-Lift Drum Dumper


BETHLEHEM, PA: A new Bulk Filling System with High-Lift Drum Dumper automatically transfers bulk solid materials from drums to the machine's fill head dust-free, fills pails by weight and verifies fill weight accuracy according to David Boger, sales manager of Flexicon Corporation.

Drums are loaded at floor level onto a platen that lifts hydraulically to form a dust-tight seal between the drum lip and gasketted discharge cone. The entire drum carriage elevates hydraulically, then tips, causing the discharge cone to mate with a gasketted receiving ring on the filling machine's surge hopper lid. A slide gate valve at the cone spout is then actuated, allowing material to fill the hopper with no dusting.

Pails are indexed by a roller conveyor with photo-eyes, filled by a rotary valve under gain-in-weight-control, and conveyed to a second scale for check weighing.

Structural members including a drum safety cage are of mild steel with durable industrial coating, and material contact surfaces are of stainless steel.

The company also manufactures flexible screw conveyors, pneumatic conveying systems, bulk bag unloaders, bulk bag fillers, bag dump stations, weigh batching and blending systems, and engineered plant-wide bulk handling systems with automated controls.

Flexicon Corporation, 2400 Emrick Blvd., Bethlehem, PA 18020-8006, Tel: 888-353-9426, Fax: 610-814-0600, E-mail: sales@flexicon.com, Web: www.flexicon.com

More from Communication Systems & Equipment