Bulk Containers require minimal storage space.
Press Release Summary: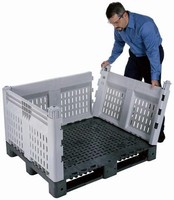 Measuring 48 x 40 x 28 in., KitBin® storage and material handling bins are constructed of heavy-duty HDPE structural foam and feature removable, interlocking side panels for return shipment and storage purposes. Perforated and non-perforated versions are available, both with 4-way forklift entry, and one or more walls of each container can be removed for loading and unloading. Each stackable bin weighs 84 lb and holds up to 1,320 lb within its 20 ft³ internal capacity.
---
Original Press Release:

KitBin® Bulk Containers from Decade Products Reduce Shipping Costs and Require Less Storage Space



Grand Rapids, MI-New KitBin® storage and material handling bins from Decade Products, LLC lower shipping costs and require less storage space than other bulk containers. The containers feature removable side panels, allowing them to be disassembled for return shipment and storage purposes.

KitBin containers are fabricated from heavy-duty, lightweight HDPE structural foam, and perforated and non-perforated versions are available. They are 48" long, 40" wide, and 28" high. Each container weighs 84 pounds and can hold up to 1,320 pounds. KitBin containers have an internal capacity of 20 cubic feet (18 bushels).

The containers feature four-way forklift entry, are stackable, and can be quickly and easily assembled or disassembled by one person. One or more walls of each container can be removed to provide easy access for loading and unloading and improved ergonomics.

Side panels feature a patented locking design for extra stability. Individual panels can be replaced if damaged, simplifying repairs and lowering maintenance costs. The interlocking design of the side panels results in greater strength than competitive folding wall container designs. All four side panels of the KitBin container can be completely detached from the pallet base, resulting in up to a 30 percent space savings over folding wall containers.

For more information about KitBin containers, contact Decade Products, LLC, 3400 Innovation Court SE, Grand Rapids, MI 49512. You can also call (877) 365-2887 toll-free, fax (616) 254-4259, e-mail info@decadeproducts.com, or visit their website at www.decadeproducts.com.

About Decade Products
Decade Products, LLC produces a wide range of bulk shipping and storage containers and pallets for industrial, agricultural and food processing applications worldwide. The company provides innovative, high quality container and pallet solutions of HDPE structural foam materials engineered to stand the test of time, increase productivity and reduce material handling costs. Located in modern manufacturing facilities in Grand Rapids, Michigan, USA, Decade Products is a joint venture between industry leaders Dolav Plastic Products of Israel and Grand Rapids-based Cascade Engineering, Inc.

Related