Bulk Container Dumper meets sanitary standards.
Press Release Summary: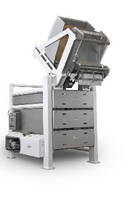 Built to particular sanitary operating processes and practices of application, Sanitary Bulk Container Dumper ensures optimal compliance contribution. Construction meets FDA, cGMP definition for cleanability according to 21CFR110.40, with features such as rounded radius framework, highly finished plate, and elimination of internal angles, corners, and dead spaces. Constructed of 6 x 4 x 5/16 in. structural framework, dumper has lift carriage capacity in excess of 2,500 lb per 135° rotation.
---
Original Press Release:

Sanitary Bulk Container Dumper Ensures Optimal Compliance Contribution (OCC) Using Process-specific, Sanitary Design Rather Than Re-purposed, General-industrial Design



HOLLAND, Michigan – National Bulk Equipment, Inc. (NBE). Processing facilities with sanitary operations know, as a matter of fact, it is their responsibility to produce safe product: product that is free of microbial and/or physical contaminants. Yet, even with the volumes of industry guidelines, third-party standards, and governmental regulations to aid in this responsibility, many sanitary processing operations seem to unknowingly, or knowingly, tolerate process-inappropriate equipment. Such equipment is typically a re-purposed design from a general-industrial application, and, though it may function suitably in a mechanical sense when placed into a sanitary application, such equipment negatively affects the operation's sanitary compliance performance by unnecessarily increasing product exposure to contaminants; hindering cleanability and validation; presenting hazards to operators, maintenance, and inspection personnel; and reducing compatibility with sanitary facility design principles.



This process-specific sanitary bulk container dumper is designed and built to the particular sanitary operating processes and practices of the application to ensure optimal compliance contribution (OCC). The construction of this NBE sanitary bulk container dumper meets the FDA, cGMP definition for cleanability according to 21CFR110.40, with design features that proactively facilitate thorough cleaning and meet or reduce target cleaning times. Such features include: the elimination of internal angles, corners, and dead spaces to avoid accumulation of contaminants; angled-planes, rounded radius framework, highly finished plate, and stand-offs to reduce material build-up and speed material and moisture run-off away from product contact areas; and component frameworks cut from plate to eliminate exposed fasteners, joints, and crevices common with tubular assemblies. Additional protections for product and personnel, in support of OCC, according to 29CFR1910.217, include: machine hard guarding that permits pass-through of materials while guarding operators from contact with machine hazards; guarding that permits viewing of guarded processes, reducing the need to remove guards; and when guards must be removed, guard retention systems on the machine protect personnel during maintenance, validation, and inspection procedures.



This sanitary container dumper, required to run 24 hours per day, and 7 days per week, is constructed of 6" x 4" x 5/16" structural framework, and has a lift carriage capacity in excess of 2,500 pounds per 135-degree rotation. Hermetically sealed connectors, and components are protected from corrosion and high temperature. U.S. and IEC/ISO compliant controls enable simple integration to the facility's SCADA system.



National Bulk Equipment, Inc.

12838 Stainless Drive

Holland, MI 49424

P: 616.399.2220

W: nbe-inc.com



Corporate Contact:

Dave Denhof

National Bulk Equipment, Inc. (NBE)



More from Packaging Products & Equipment