Bulk Container Dumper Design Reduces Changeover Times and Improves Product Safety; Process-specific Chassis Enables Stable, 16-foot Lift and Unload Cycles of 2,500-pound Loads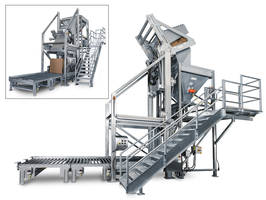 HOLLAND, Michigan (March 31, 2017) – National Bulk Equipment, Inc. (NBE). This bulk container dumper is designed specifically for processing applications handling non-free flowing, high bulk density materials. Process-specific features of this bulk container dumper include specially milled 304-2b stainless steel sheet that has a greatly reduced coefficient of friction relative to typical flat sheet, for improved material release during infeed, and faster, more thorough cleaning during changeovers. Additional design features that speed changeovers and improve product safety include: the elimination of internal angles that could harbor contaminants; the use of rounded-radius framework turned 45 degrees to horizontal to speed moisture run-off; and sub-assembly designs that enable single-operator access, removal, and replacement. The thick-wall, 8-inch by 6-inch, stainless steel chassis ensures stable, heavy-lift performance during the raise-and-rotation sequence of the 2,500-pound loads at a 16-foot dump height.
Despite the two-tiered operating environment of the application, changeover times were reduced as a result of the NBE quick-changeover design and performance-proven construction. Process throughput was further increased due to the greatly improved material release, and complete discharge. This NBE bulk container dumper also improved process safety. The material discharge carriage features a container lift-and-seal function that eliminates the release of migrant material dusts into the operator work area.
This fully automated, bulk material handling system is built on the NBE integrated construction and controls infrastructure. The complete process sequence, including: container loading and sealing, and container high-lift and discharge operates on a paired, process-specific structural framework chassis with all automation and control functions centralized to a single, menu-driven HMI to enable standardized and system-wide data reporting. The NBE integrated construction and controls infrastructure provides the basis for reduced total cost of ownership, relative to the common systems integration concept of bolt-together, divergent 'islands' of equipment and controls, while also improving process performance and the accuracy of production data shared throughout the enterprise.
This NBE bulk container discharging system was built based on HACCP assessments that guided the determination of the framework and component materials of construction. This pro-active effort ensured the highest compatibility with the specifications and conditions of the process, material, and production environment.
National Bulk Equipment, Inc.
12838 Stainless Drive
Holland, MI 49424
P: 616.399.2220
W: nbe-inc.com
Corporate Contact:
Tim Wiersma
National Bulk Equipment, Inc.
P: 616.738.7271