Bulk Bag Unloader has sanitary, stainless steel construction.
Press Release Summary: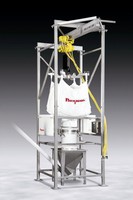 Equipped with Spout-Lock® clamp ring and Power-Cincher® flow control valve, Model BFC-F-X eliminates dust during untying, discharging, retying, collapse, and removal of bags while allowing thorough washdown. Flow-Flexer® raises and lowers opposite bottom sides of bag into steep V shape, and Tele-Tube® telescoping tube maintains downward tension on bag as it empties. Cantilevered I-beam with electric hoist and trolley allows raising and positioning of bulk bags without forklift.
---
Original Press Release:

Sanitary Bulk Bag Unloading System



BETHLEHEM, PA, USA - A new Sanitary Bulk Bag Unloading System from Flexicon eliminates dust during untying, discharging, retying, collapse and removal of bags while allowing thorough wash down, it was announced by David Boger, vice president sales and marketing, here.

The unloader, model BFC-F-X, is equipped with a patented Spout-Lock® clamp ring that forms a dust-tight connection between the clean side of the bag spout and the clean side of the equipment. The airtight system is vented to an integral dust collector that vacuums displaced air and dust, and collapses empty bags dust-free.

A patented, UDSA-accepted Power-Cincher® flow control valve cinches the bag spout concentrically, allowing dust-free retying of partially empty bags.

Promoting complete discharge of free- and non-free-flowing material from the bulk bag are Flow-Flexer® bag activators that raise and lower opposite bottom sides of the bag into a steep V shape, and a patented Tele-Tube® telescoping tube that maintains constant downward tension on the bag as it empties and elongates.

All stainless steel construction with continuous ground and polished welds meets food, dairy and pharmaceutical standards, and allows rapid, thorough wash down.

A cantilevered I-beam with electric hoist and trolley allows raising and positioning of bulk bags without the aid of a forklift. Also offered is a BFF-F-X model equipped with top-mounted receiving cups and a removable bag-lifting frame for forklift loading of bulk bags.

The unit is available with a hopper and flexible screw conveyor that meet 3-A sanitary standards (shown) or a rotary airlock valve to feed material into a pneumatic conveyor line. It is also offered with an integral bulk bag conditioner to loosen materials that have solidified in the bag, and integrated scale systems for loss-of-weight batching directly from bulk bags.

Flexicon manufactures mechanical conveyors, pneumatic conveying systems, bulk bag unloaders, bulk bag conditioners, bulk bag fillers, bag dump stations, lift-and-seal drum dumpers, weigh batching and blending systems, and automated plant-wide systems for handling of bulk chemical, food, dairy, and pharmaceutical products.

For information contact Flexicon Corporation, 2400 Emrick Blvd., Bethlehem, PA
18020-8006 USA, 1-888-353-9426, sales@flexicon.com, www.flexicon.com

More from Explosives, Armaments, and Weaponry