Bulk Bag Filler Integrates NTEP-Certified Weigh System to Enable +/- .01% Weigh Accuracy of Filled Bags; Prevents Material Loss or Re-work Resulting from Over- or Under-filled Bags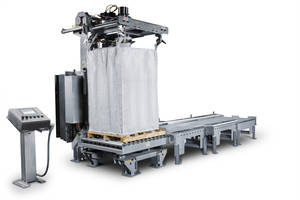 HOLLAND, Michigan (January 12, 2016) – National Bulk Equipment, Inc. (NBE). NBE 3-A, USDA, FDA and BISSC-compliant bulk bag filling systems are engineered, fabricated, and constructed to speed inspections, simplify integration, and ensure qualification for start-up into food processing and packaging operations. These NBE sanitary bulk bag filler systems also support process practice protocols where 3-A Accepted Practices or other cGMPs are necessary.
These NBE sanitary bulk bag filling systems include features such as 32 Ra surface finishes to simplify cleaning; tool-less, demountable assemblies to speed inspection; 3-A compliant components to aid in sanitary standards conformance; HEPA air filtration for sanitary bag inflation; and a structural framework leak test system to facilitate clean-in-place (CIP) procedures. These sanitary NBE bulk bag fillers also offer NTEP-certified weigh devices to assure certified weight accuracy to +/- .01%, to a 4,500 pound bag weight.
The integrated automation of NBE sanitary bulk bag fillers standardizes controls programming and expands controls functionality to include legacy systems. System-wide automation of process operations, diagnostics, and reporting are controlled through a single HMI. NBE integrated automation improves equipment performance, optimizes throughput, and increases operator safety.
National Bulk Equipment, Inc.
12838 Stainless Drive
Holland, MI 49424
P: 616.399.2220
W: nbe-inc.com
Corporate Contact:
Tim Wiersma
National Bulk Equipment, Inc.
P: 616.738.7271