Buffers and Clock Driver are suited for registered DIMMs.
Press Release Summary: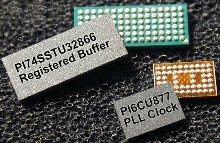 Registered Buffers PI74SSTU32864A/SSTU32866 and Phase-Locked Loop Clock Driver PI6CU877 are optimized to drive DDR2-400 and DDR2-533 Memory Modules. Model PI74SSTU32866 includes parity logic function that provides security feature of detecting data error. Registered buffers feature 25-bit 1:1 or 14-bit 1:2 configurable buffer, 270 MHz clock frequency, and 2.15 ns max speed. Clock driver features 270 MHz frequency, 40 ps skew, and 140 ps jitter.
---
Original Press Release:

Pericom Semiconductor Delivers Industry Dominant Performance DDR2 Buffer and PLL for Registered DIMMs


SAN JOSE, Calif. - Pericom Semiconductor Corporation (NASDAQ: PSEM), a worldwide preferred supplier of high-speed integrated circuits and frequency control devices, today announced the release of its industry leading performance DDR2 Registered Buffers and PLL Clock for Registered DIMMs. These DIMMs are found in next generation higher performance systems such as servers, routers, switches, and workstations.

PI74SSTU32864A/SSTU32866 Registered Buffers and PI6CU877 Phase-Locked Loop Clock Driver are specifically optimized to offer industry-leading performance to drive DDR2-400 (PC2-3200) and DDR2-533 (PC2-4300) Memory Modules. The PI74SSTU32866 Registered Buffer includes a parity logic function that provides an additional security feature of detecting data error. These new Intel validated components offer the industry's highest post register timing margins while providing superior signal integrity.

"Pericom is pleased to announce Intel validation of it new DIMM products. Our Registers and Clock Driver provide a complete JEDEC standard DDR2 DIMM solution. This new enhanced solution demonstrates our commitment to cutting edge products in support of the DIMM market. Pericom's objective in Memory Module support is to maintain superior technology, leadership in speed, drive, and power performance, while backing it up with our award winning customer service," said Jaci Chang, Product Marketing.

Key Features of PI74SSTU32864A Registered Buffer:

o Configurable Buffer: 25-bit 1:1 or 14-bit 1:2.

o Low voltage operation: 1.8V

o Clock Frequency: 270 MHz supporting DDR2-400(PC2-3200) & DDR2-533(PC2-4300)

o Supports JEDEC SSTL_18 signaling on all data & Clock inputs and outputs

o High-Speed: 2.15ns max

o Performance Packaging: 96-ball LFBGA

Key Features of PI74SSTU32866 Registered Buffer:

o Configurable Buffer: 25-bit 1:1 or 14-bit 1:2.

o Parity Logic: Error Detection

o Low voltage operation: 1.8V

o Clock Frequency: 270 MHz supporting DDR2-400(PC2-3200) & DDR2-533(PC2-4300)

o Supports JEDEC SSTL_18 signaling on all data & Clock inputs and outputs

o High-Speed: 2.15ns max

o Performance Packaging: 96-ball LFBGA

Key Features of PI6C877 Clock Driver:

o Clock Frequency: 270 MHz supporting DDR2-400(PC2-3200) & DDR2-533(PC2-4300)

o Low skew: 40ps

o Low jitter: 140ps

o Low voltage operation: 1.8V 1 0.1V

o Supports SSTL_18 Clock signaling

o Performance Packaging: 52-ball VFBGA

Availability and Pricing

PI74SSTU32864A, PI74SSTU32866 and PI6CU877 are available today. Free product samples, datasheets, IBIS models, technical support, and application notes can be found on the company website. Pricing starts at $4 for each Register, and the PLL is $3, both in 5000 unit quantities.

About Pericom:

Pericom Semiconductor Corporation (NASDAQ: PSEM) offers customers worldwide the industry's most complete silicon and quartz based solutions for the Computing, Communications, and Industrial market segments. Our broad portfolio of leading-edge analog, digital, and mixed-signal integrated circuits and SaRonix frequency control products are essential in the timing, transferring, routing, and translating of high-speed signals as required by today's ever-increasing speed and bandwidth demanding applications. Company headquarters are in San Jose, California, with design centers and sales offices located globally. www.pericom.com

More from Software