Buehler Obtains ISO Certification for Vickers and Knoop Reference Hardness Blocks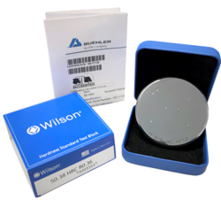 The Buehler Wilson® Reference Block Laboratory in Binghamton, NY, has achieved accreditation to ISO/IEC 17025 by A2LA (American Association for Laboratory Accreditation) for Rockwell, Knoop, Vickers and Brinell hardness test blocks and indenters. A2LA is in full conformance with the standards of the International Organization for Standardization (ISO) and the International Electro-Technical Commission (IEC), including ISO/IEC 17025. Buehler markets the reference blocks along with the Wilson hardness testers and DiaMet software globally. 

Process of Calibration
The testers used in the calibration process undergo a stringent monitoring process using NIST traceable devices and Buehler conducts 100% inspection to ensure that every single test block meets the physical requirements of ASTM (thickness, flatness, parallelism, surface roughness and magnetism). The laboratory then uses specialized hardness testers to calibrate blocks according to Rockwell, Vickers and Brinell scales which comply to ASTM and ISO standards for calibrating test blocks. 

According, to Matthias Pascher, Hardness Product Manager, "The hardness readings are taken and statistics calculated according to the applicable standards. Each test block will get its own certificate, thus full traceability. In addition to in-house daily verifications, standards also require indirect verifications to be completed periodically by an accredited third-party. After the indent certification, the blocks are engraved with a laser engraver to add a grid (if applicable) and the hardness value with tolerance according to the standards. All hardness test blocks ship with ASTM and ISO certificates. Buehler is the only global supplier in the metallographic solution market that produces and calibrates hardness reference blocks." 

Scope of Accreditation The Buehler Wilson® Reference Block Laboratory in Binghamton, New York, is accredited to perform calibrations on hardness reference blocks according to the following standards:
Calibration of Standardized Rockwell Hardness Test Blocks | ASTM E18 and ISO 6508-3

Calibration of Standardized Rockwell Superficial Hardness Test Blocks | ASTM E18 and ISO 6508-3

Calibration of Standardized Vickers Test Blocks | ASTM E92 ISO 6507-3

Calibration of Standardized Knoop Test Blocks | ASTM E92 ISO 4545-3

Calibration of Standarized Brinell Test Blocks | ASTM E10 ISO 6506-3

Buehler Test Blocks Available in Rockwell, Vickers, Knoop and Brinell Hardness Scales Buehler's hardness reference blocks utilize the highest quality material to insure the most uniform and repeatable test blocks available. Buehler's Test Block Calibration Laboratory has the capability to produce and calibrate test blocks for many different hardness scales.

Rockwell: Regular and Superficial scales

Vickers Microindentation: Loads from 10gf to 1kgf

Vickers Macroindentation: Loads from 1kgf to 120kgf

Knoop Microindentation: Loads from 10gf to 1kgf

Brinell: Loads from HBW5/750, HBW5/250, HBW10/1000, HBW10/3000, HBW2.5/62.5, HBW2.5/187.5

The complete line of Wilson Rockwell, Wilson Brinell and Wilson Vickers / Knoop Test Blocks for hardness testing is available within the hardness section of the Buehler website. To assist customers in the selection, process Buehler has also released a Test Block Application Guide with valuable information about the Wilson line of test blocks and important information about proper usage of test blocks. 

Buehler is a leading provider of scientific equipment, supplies, consumables and analysis techniques for use in materials preparation, image analyses and hardness testing. Buehler products cross a wide variety of industries, including Primary Metals, Automotive, Aerospace and Defense, Electronics, Medical, Energy and more. For information on Buehler's Hardness Testing Equipment and software contact your sales representative. 

About Buehler
Buehler, An ITW Company, is a global industrial manufacturer of value-added consumables and testing equipment with related service businesses. The company innovates solutions and offers expert service and support throughout the materials preparation and analysis market. For additional information on the Buehler product offering please visit www.buehler.com or contact Buehler at marketing@buehler.com or telephone 1-847-295-6500. 

In 2006, Buehler was acquired by ITW, a developer and processor of engineered components, industrial systems and consumables. ITW is a global, Fortune 200 company with 51,000 employees across 56 countries. For additional information on ITW please visit www.itw.com. 
More from Non-Industrial Products