Bucket Elevator handles heavy-duty products.
Press Release Summary: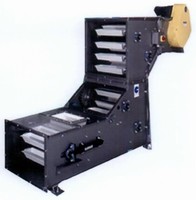 Swinglink(TM) has buckets that remain in upward facing position while loading and throughout circuit, allowing material to receive maximum gentle handling. When in horizontal position, buckets are overlapped to ensure there is no product spillage, and smooth bucket surface eliminates product trap areas for means of transfer in single plane. Heavy-duty buckets are available in stainless steel, carbon steel, and plastic, and multiple cover options are available.
---
Original Press Release:

Swinglink(TM) Bucket Elevator Introduced by Gough Econ for Heavy Duty Products



CHARLOTTE, N.C-- Gough Econ, Inc., a manufacturer of bulk material handling solutions, has introduced the Swinglink(TM) heavy duty bucket elevator for industrial applications such as soap/detergents, ceramics, ammunition, fiberglass, talc powder, sugar, salt, batteries, chemicals, fertilizer, glass cullet and metal powders.

The Swinglink(TM) bucket elevator has buckets that remain in an upward facing position while loading and throughout the circuit allowing the material to have maximum gentle handling. When in a horizontal position, the buckets are overlapped to ensure there is no product spillage and the smooth bucket surface eliminates product trap areas. This provides an excellent means of transfer in a single plane. Heavy-duty buckets are available in stainless steel, carbon steel and plastic.

Distinct features and benefits of the Swinglink(TM) include heavy duty chains for long-life durability, robust unit construction, multiple cover options to meet specific application needs and discharges on lower run of elevator reducing product free fall drop and increasing product integrity.

Due to its patented chain and bucket design, the Swinglink(TM) can move material in vertical and horizontal movements and is designed to handle material without damaging or spilling. This is what gives Gough Econ the most popular conveying systems in the industry.

About Gough Econ
Gough Econ was established in 1974 in the United States, as a subsidiary of a UK company, which was founded in 1940. Today, Gough's operations are locally owned and headquartered in Charlotte, N.C. where the design, manufacturing and administrative functions take place. Gough Econ specializes in the design and manufacture of standard and engineered material handling systems that move and protect its customer's products. Gough Econ also provides a variety of technical services including product testing, product engineering, control systems design and installation management.

For more information on the versatile Gough Econ, please contact P.O. Box 668583, Charlotte, N.C. 28266-8583. The telephone number is 1-800-264-6844; FAX 704-392-8706 or E-mail [email protected]. You can also Gough Econ on the web at qouqhecon.com

Industrial Applications:
o Soap/Detergents
o Ceramics
o Ammunition
o Fiberglass
o Talc Powder
o Sugar
o Salt
o Rocks/Minerals
o Batteries
o Carbon Black
o Catalysts
o Chemicals
o Fertilizer
o Glass Cullet
o Metal Powders

Features & Benefits
o Designed to handle heavy-duty products
o Uses robust construction & components to ensure reliability and durability
o Buckets available in stainless steel, carbon steel and plastic
o Uses the strongest chain in the industry
o Standard design provides for in feed on top "row" of buckets
o 135° to complete 360° rotation as required
o Buckets remain in upward position while loaded and after discharge
o Buckets overlap when in horizontal position to ensure no spillage
o Durable, yet gentle handling, of product
o Smooth bucket surface eliminates product trap areas
o Multiple cover options to meet specific application needs