Buck Regulator is over 85% efficient.
Press Release Summary: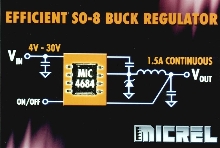 MIC4684 buck regulator's boost capacitor increases available voltage to saturate internal power switch. Regulator has input voltage range of 4 to 34V and 1.5A output current. Built-in safety features include cycle-by-cycle current limit, frequency foldback short circuit protection, and thermal shutdown. It is available in adjustable output voltage version.
---
Original Press Release:
Micrel Boosts Efficiency of World's Simplest SO-8 Buck Regulator

SAN JOSE, Calif. -- (July 19, 2001) -Micrel has boosted the efficiency of its simple S08 buck regulator. The MIC4684, the newest member of the SuperSwitcher family, was designed and developed by Micrel Semiconductor (NASDAQ: MCRL), an industry leader in analog and power management integrated circuits.

The MIC4684 is a high efficiency, 200KHz, PWM buck regulator. Micrel has increased the efficiency by up to 10% by adding a boost capacitor to the MIC4684. The boost capacitor increases the available voltage to saturate the internal power switch. Efficiencies of over 85% are obtainable in a wide range of applications.

The MIC4684 boasts a wide input voltage range of 4V to 34V, and a high 1.5A output current. Only 5 external components are required with the MIC4684, making it a very simple-to-use solution.

"The MIC4684 is ideal for applications where space and efficiency are critical. Its high efficiency operation in conjunction with its fused power S08 leadframe allows over 1.5A of continuous output current. The MIC4684 can replace bulky D2PAK and TO-220 packages in many applications," says Tony Grizelj, Micrel's marketing manager for power products.

The MIC4684 allows robust designs with built-in safety features such as a cycle- by-cycle current limit, frequency foldback short circuit protection, and thermal shutdown. The MIC4684 is available in an adjustable output voltage version, with fixed 3.3V and 5.0V output versions coming soon.

The MIC4684BM is housed in a SO-8 package and priced at $2.30 when purchased in 1,000-piece quantities. Samples are available from stock, and production quantities are stock to 12 weeks ARO.

Summary of Features & Applications: MIC4684 SuperSwitcher
* 4V to 34V input voltage
* Switching frequency of 200kHz
* 1.5A continuous current
* Over 85% efficient
* Only 5 external components
* Adjustable output voltages down to 1.25V; fixed output voltages of 5V, 3.3V coming soon
* Typical 1.5µA shutdown current
* Internally compensated with fast response times
* Robust protection includes
* Cycle-by-cycle current limit
* Frequency foldback short circuit protection
* Thermal shutdown Applications
* Distributed-power designs
* Hard disk drives
* Battery chargers
* Local 12V to 5V/3.3V/2.5V/1.8V conversion
* Local 5V to 2.5V/1.8V conversion
* Positive to negative converters
* Replacement of larger TO-220 and TO-263 designs
Related