Buck Converter lets application processors run at max clock speed.
Press Release Summary: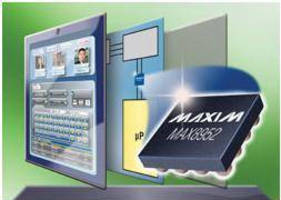 Supplied in 2.0 x 2.0 x 0.65 mm WLP, MAX8952 synchronous DC-DC step-down converter delivers 2.5 A of output current and maintains output-voltage accuracy by integrating bandgap reference and minimizing offset errors in feedback circuit. Fully differential remote sense ensures precise regulation at load by eliminating resistive losses associated with PCB trace impedance. Operating from input as low as 2.5 V, IC features I²C interface and programmable output voltage from 770 mV to 1.40 V.
---
Original Press Release:

2.5A Step-Down Converter Allows Application Processors to Run at Maximum Clock Speed in Handheld Applications



Step-down converter delivers 2.5A of output current for portable applications.

Maxim introduces a high-current buck converter in a tiny 4mm² wafer-level package for portable applications.

SUNNYVALE, CA-Maxim Integrated Products (NASDAQ: MXIM) introduces the MAX8952, a synchronous, high-efficiency, DC-DC step-down converter. Maxim's advanced BiCMOS process and packaging technologies enable this device to deliver up to 2.5A of output current from a tiny 4mm² wafer-level package (WLP). This high-current capability allows applications processors to run at maximum clock speed. The small package and high-current output make the MAX8952 ideal for high-performance portable devices such as smartphones and tablet PCs.

This device achieves extremely tight output-voltage accuracy by integrating a highly precise bandgap reference and by minimizing offset errors in the feedback circuit. Fully differential remote sense ensures precise regulation at the load by eliminating the resistive losses associated with PCB trace impedance. Additionally, the MAX8952 operates from an input supply as low as 2.5V to extend device operating time and to support a wide range of battery chemistries.

This highly flexible step-down converter features an I²C interface that enables dynamic voltage scaling and allows programming of the output voltage between 770mV and 1.40V in 10mV steps. The MAX8952 operates either in fixed-frequency (3.25MHz) PWM mode or in power-save mode. It can also be synchronized to an external system clock to ease EMI reduction.

To simplify programming, the MAX8952 provides two logic controls to facilitate selection among four predefined power-management states. For each state, the user can individually program the output voltage, mode of operation (PWM or power save), and external clock synchronization (on/off). Other features include output overvoltage and overcurrent protection, thermal shutdown, soft-start, and an ultra-low 1µA (max) shutdown current.

The MAX8952 is offered in a tiny, 2.0mm x 2.0mm x 0.65mm, 16-bump WLP, and is fully specified over the -40°C to +85°C extended temperature range. Prices start at $1.76 (1000-up, FOB USA). Samples and evaluation kits are available upon request.

Maxim Integrated Products is a publicly traded company that designs, manufactures, and sells high-performance semiconductor products. The Company was founded over 25 years ago with the mission to deliver innovative analog and mixed-signal engineering solutions that add value to its customers' products. To date, it has developed over 6300 products serving the industrial, communications, consumer, and computing markets.

Maxim reported revenue in excess of $1.6 billion for fiscal 2009. A Fortune 1000 company, Maxim is included in the Nasdaq 100, the Russell 1000, and the MSCI USA indices. For more information, go to www.maxim-ic.com.

Customer Service: 1-800-998-8800

More from Transportation Industry Products