Buck-Boost Regulators have high-current, -efficiency designs.
Press Release Summary: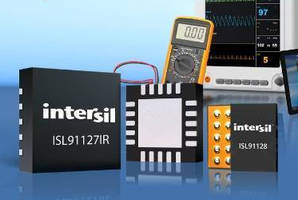 Supplied in 20-bump, 2.15 x 1.74 mm WLCSP, ISL91127 and ISL91128 operate in buck, boost, or buck-boost mode and provide smooth transitions between each to prevent noise and glitches. Features include 4.5 A switches, up to 96% efficiency, 1.8–5.5 V input range, 1–5.2 V output range, and 30 µA quiescent current. Additionally, ISL91128 features I²C programmable dynamic output voltage adjustability. Footprint of both products suits low-voltage, battery-operated devices.
---
Original Press Release:

Intersil Introduces High Efficiency, High Current Buck-Boost Regulators for Battery-Powered Portables



Up to 96% efficiency and industry's lowest quiescent current makes new ISL91127 and ISL91128 ideal for low-voltage, battery-operated systems



MILPITAS, Calif. -- Intersil Corporation (NASDAQ: ISIL), a leading provider of innovative power management and precision analog solutions, today announced the ISL91127 and ISL91128 high efficiency buck-boost regulators. The latest in Intersil's industry-leading buck-boost family, the new devices feature 4.5A switches, best-in-class efficiency up to 96%, and a compact footprint ideal for providing system power or powering the peripherals in battery-operated devices. They offer the industry's lowest quiescent current of 30µA for superior light load efficiency.



In hand-held device applications where the input voltage may be higher or lower than the output voltage, buck-boost regulators improve efficiency and provide longer battery life compared to a boost regulator plus bypass solution. With increasing demands for smaller and smaller footprints, Intersil's ISL9112x compact QFN and WLCSP packages enable power designs that maximize efficiency while providing flexibility and ease of design.



The ISL91127 and ISL91128 operate in buck, boost or buck-boost mode, depending on the relation between input and output voltages, and provide smooth transitions between modes to prevent noise and glitches. This capability, combined with patented Intersil technology for delivering superior light load efficiency with ultra-low quiescent current, maximizes efficiency under all conditions. This is essential to improve battery life by reducing power drain and heat dissipation in portable and mobile applications.



The new buck-boost regulators' wide input voltage range of 1.8V to 5.5V supports multiple battery topologies, and their wide output voltage range of 1V to 5.2V combined with 3A output current provide the ultimate in design flexibility. The ISL91128 also features I2C programmable dynamic output voltage adjustability, which eliminates feedback resistors and allows the reuse of the same design for multiple output voltage needs.



"Hand-held device designers are constantly challenged to create smaller, more efficient products whether it is the latest wearable, a portable medical device or next-generation smartphone," said Andy Cowell, senior vice president of Mobile Power Products at Intersil. "Intersil specializes in providing the most efficient power delivery with excellent transient response. Our latest buck-boost regulators leverage generations of experience in the most demanding mobile applications to provide customers with extended battery life in a compact, easy-to-use package."



Key Features and Specifications of ISL91127 and ISL91128

30uA typical quiescent current: the lowest of any high current buck-boost in the industry

Up to 96% efficiency (PVIN = 3.6V, Vout = 3.4V~4V, Iout = 200mA)

Output current up to 3A in boost mode (PVIN = 3V, Vout = 3.3V)

Input voltage can range from 1.8 to 5.5V, output voltage can be adjustable or fixed at 3.3V

Full protection for under-voltage, short-circuit, and thermal faults to ensure safe operating conditions and reliable system operation

ISL91128 offers I2C dynamic voltage adjustability for output voltage, and ringing suppression for superior EMI performance



The ISL91127 and ISL91128 can be combined with the ISL9003A, ISL9016, ISL9021A, and ISL9001A LDOs to support multiple output rails with improved ripple. They also work with the ISL9113 sync boost converter and ISL91133 boost regulator if additional higher voltage rails are required, and lower voltage rails are supported with the ISL9104 and ISL9103 sync buck converters.



Pricing and Availability

The ISL91127IR is available now in a 4mm x 4mm, 20-pin QFN package and is priced at $1.29 USD in 1k quantities. The ISL91127 is also available in a 20-bump, 2.15mm x 1.74mm WLCSP package priced at $1.25. The ISL91127IRN-EVZ fixed 3.3V evaluation board and ISL91127IRA-EVZ adjustable voltage evaluation board are available for purchase. For more information, please visit: www.intersil.com/products/isl91127.



The ISL91128 is available now in a 20-bump, 2.15mm x 1.74mm WLCSP package and is priced at $1.25 USD in 1k quantities. For more information, please visit: www.intersil.com/products/isl91128.



About Intersil

Intersil Corporation is a leading provider of innovative power management and precision analog solutions. The company's products form the building blocks of increasingly intelligent, mobile and power hungry electronics, enabling advances in power management to improve efficiency and extend battery life. With a deep portfolio of intellectual property and a rich history of design and process innovation, Intersil is the trusted partner to leading companies in some of the world's largest markets, including industrial and infrastructure, mobile computing, automotive and aerospace. For more information about Intersil, visit our website at www.intersil.com.



Intersil and the Intersil logo are trademarks or registered trademarks of Intersil Corporation. All other brands, product names and marks are or may be trademarks or registered trademarks used to identify products or services of their respective owners.



CONTACT: Mark Alden, Intersil Corporation, (408) 546-3402, malden@intersil.com

More from Fasteners & Hardware