Buck-Boost Battery Charger supports USB Type-C connector.
Press Release Summary: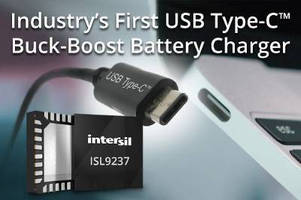 Featuring 5–20 V input voltage capability, ISL9237 Narrow VDC Battery Charger supports 2-way power delivery in ultrabooks, tablets, and power banks using reversible USB Type-C™ connector. Single-chip device is capable of providing buck-mode, buck-boost-mode, and boost-mode for 1-to-3 cell Li-ion batteries. It also supports USB On-The-Go with 5 Vout reverse buck-mode. R3™ modulation technology provides acoustic noise-free operation and ultra-fast transient response to extend battery run-time.
---
Original Press Release:

Intersil Ships Industry's First USB-C Buck-Boost Battery Charger



Single-chip ISL9237 reduces BOM costs up to 40%, extends battery life for ultrabooks, tablets and power banks



MILPITAS, Calif., -- Intersil Corporation (NASDAQ: ISIL), a leading provider of innovative power management and precision analog solutions, today introduced the industry's first buck-boost battery charger that supports two-way power delivery in ultrabooks, tablets and power banks using the reversible USB Type-C(TM) connector. The single-chip ISL9237 Narrow VDC (NVDC) battery charger replaces competitive buck and boost two-chip charger solutions, eliminating a charger IC and inductor to reduce customer bill of materials (BOM) costs by up to 40%. The ISL9237 leverages Intersil's patented R3(TM) modulation technology for acoustic noise-free operation, excellent light load efficiency and ultra-fast transient response to extend battery run-time.



The USB 3.1-compliant ISL9237 joins the emerging USB-C(TM) ecosystem as the first battery charger capable of providing buck-mode, buck-boost-mode, and boost-mode for 1-to-3 cell Li-ion batteries. It also supports USB On-The-Go (OTG) with a 5Vout reverse buck-mode, and reduces traditional two-stage charging to a single-stage buck-boost for improved efficiency. The USB Type-C interface connection enables delivery of data, video and power up to 100W over a single cable.



In charging mode, the ISL9237 takes input power from a wide range of DC power sources -- AC/DC charger adapters, USB power delivery (PD) ports and any travel adapter -- to charge battery packs with up to 3-series cell Li-ion batteries. The ISL9237 can also operate connected to only a battery, an adapter, or both. The ISL9237's system turbo-mode helps the battery and charger adapter work together to supply the system load when it exceeds the adapter's capability. In turbo-mode, the ISL9237 quickly turns on the battery BGATE FET to deliver system power. In addition, the ISL9237's wide 5V to 20V input voltage capability helps boost the USB-C ecosystem to support new power bank products. Watch a video on the ISL9237 solution.



"Mobile computing customers have come to rely on Intersil's battery charging and power management innovations to create the world's most efficient devices," said Andrew Cowell, senior vice president of Mobile Power Products at Intersil. "The ISL9237 is the first USB-C battery charger to market. It far exceeds the limits of what was previously possible to help our customers develop products with thinner form factors and much longer battery life."



The ISL9237 battery charger is the latest member of Intersil's family of mobile computing power management solutions, which include the ISL95852 Vcore PMIC, the ISL95908 peripheral PMIC, and Intersil's discrete PWM controllers (ISL95853/54/55/57). These products power IMVP8-compliant systems using Intel 6th Gen Core processors.



Key Features and Specifications



--  Buck-boost NVDC charger for 1-, 2-, or 3-cell Li-ion batteries

--  Input voltage range of 3.2V to 23.4V (no dead-zone)

--  System output voltage of 2.4V to 13.824V

--  Up to 1MHz operation allows use of smaller, lower cost inductors and automatically reduces switching frequency with no audible acoustic noise when charger is in DCM mode

--  ASGATE FET control: actively controls inrush current to prevent FET damage

--  LDO output for charger VDD

--  Compliant with Intel PROCHOT# and PSYS for protection against battery voltage drop, adapter over-current, battery over-current and overheat

--  Allows trickle charging of depleted battery

--  SMBus/I2C programmable limit settings with adapter current monitor (AMON) and battery discharging current monitor (BMON)

--  Battery learn mode activated by SMBus control command, allows calibration of the battery fuel gauge



Pricing and Availability

The ISL9237 buck-boost battery charger is available now in a 4mm x 4mm, 32-lead QFN package and priced at $3.50 USD in 1k quantities. For more information on the ISL9237, please visit www.intersil.com/products/isl9237.



About Intersil

Intersil Corporation is a leading provider of innovative power management and precision analog solutions. The company's products form the building blocks of increasingly intelligent, mobile and power hungry electronics, enabling advances in power management to improve efficiency and extend battery life. With a deep portfolio of intellectual property and a rich history of design and process innovation, Intersil is the trusted partner to leading companies in some of the world's largest markets, including industrial and infrastructure, mobile computing, automotive and aerospace. For more information about Intersil, visit our website at www.intersil.com.



Intersil, R3 and the Intersil logo are trademarks or registered trademarks of Intersil Corporation. All other brands, product names and marks are or may be trademarks or registered trademarks used to identify products or services of their respective owners.



CONTACT: Mark Alden, Intersil Corporation, (408) 546-3402, malden@intersil.com



Web Site: http://www.intersil.com

More from Machinery & Machining Tools