Bubble Pouch Products facilitate packaging process.
Press Release Summary: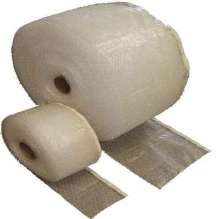 Requiring only standard Durabubble roll stock, Kangaroo automatic pouch machine loads in less than 2 min, allowing users to produce custom pouch sizes on-demand. Bubble Pouches On A Roll contain up to 500 pouches that are wound around 3 in. core. They are made with 3/16 high-slip Durabubble stock and are available in sizes from 4 x 5.5 in. to 24 x 28 in. Perforations are strong enough to keep roll intact, but light enough to easily release each pouch.
---
Original Press Release:

Polyair is "On a Roll" With Bubble Pouch Innovations


Toronto, ON, June 14, 2004 - Polyair, an industry leader in the North American protective packaging market, today announced two new innovative bubble pouch products designed to significantly drive down costs for its customers - the Kangaroo and Bubble Pouches On A Roll.

Looking for an Expert on Pouches - Look No Further Than the Polyair Kangaroo

The Kangaroo, launched a few months ago, is the first compact automatic pouch machine that sits in the customer's own facility. Requiring only standard Durabubble roll stock this user-friendly machine is easy to operate and loads in less than 2 minutes. Polyair even has a video demonstration of how easy it is to operate the machine on its website (www.polyair.com) where you can also request a copy of this demonstration on CD.

"Pouches are one of the best ways for companies to save time and money when packing products," said Mitchell Solway, Director of Marketing for Polyair. These pre-formed bags allow packers to quickly insert the product and seal the pouch with the self adhesive. This significantly reduces handling time previously spent wrapping and taping. Further, the pouches allow customers to eliminate excess material and tape to appreciably cut down on material costs. The net result is significant cost reduction.

"Our Durabubble pouches are extremely strong and provide great protection. With their growing popularity we recognized that a number of customers were ordering pouches in high volumes or regularly needed a host of custom sizes - which can take some time to produce", said Solway.

The Kangaroo allows these customers to make their own pouches from standard bubble roll stock on demand at their facility. Having to purchase regular bubble roll stock saves them considerable dollars over pouches and having the machine on-site allows them to produce custom pouch sizes without having to wait weeks for delivery. Initial customer response has been far greater than expected.

From auto parts to home products, with these compact machines on-site customers can create their own pouches as needed, eliminating ordering and shipping delays and reducing overstocks and inventory issues. As packaging needs change, the Kangaroo can be quickly and easily adjusted to create different size pouches.

Customer's Turbo Charge their Packing Stations with Polyair's Pouches On A Roll

When working with their customers Polyair also recognized that there was an opportunity to help significantly increase packing line speeds and ergonomics for their pouch customers.

"We noticed that there was a significant amount of time spent fumbling with loose bags that became scattered around the packing station or stuck to each other. There was also a measurable amount of time spent replenishing the pouches at the station", said Ian Hutchison, Bubble Product Manager for Polyair. "Even though our customers initially weren't overly concerned with these issues we knew that there had to be an alternative design for the pouches that would help increase efficiencies for our customers. The result was Bubble Pouches On A Roll. The solution ended up being so intuitive, simple and effective these same customers now vow never to go back to loose pouches again"

Depending on the size of the pouch Polyair Bubble Pouches On A Roll contain up to 500 pouches that are wound in a roll around a 3" core. The perforation between each pouch is strong enough to keep the roll intact but light enough to easily release each pouch when needed. With the large roll mounted at eye level at the packing station packers can easily dispense one pouch at a time with no fumbling with loose pouches, no pouches sticking together and with up to 500 pouches on the roll there are fewer replenishment cycles. Further, the eye level mount means no bending and turning to not only help increase packing speeds but also makes life easier on the packer.

"An added benefit," remarked Hutchison, "is that our Pouch On A Roll bundles take up considerably less floor space than boxes for the equivalent number of pouches; plus, when you are done there are no empty boxes to deal with. Every little bit helps and our customers certainly appreciate that."

Pouches on a Roll are manufactured using Polyair's superior 3/16 high-slip Durabubble stock and are available in a variety of standard and custom sizes ranging from 4"x 5.5" to 24" x 28". They can be perforated at any length for easy tear-off and include taped flaps for secure closure and superior seam strength to allow maximum loading capacity.

"Our continued success in transitioning a large number of our customers to bubble pouches has brought about tremendous labor and material cost savings. Having created such a high demand for the pouches created another opportunity for us to reduce their costs even further by allowing them to make the pouches themselves or increasing their packing line efficiency." said Solway. "It wasn't something that we had to do but working closely with our customers and continually helping them find ways to reduce costs always makes good business sense in the long run. We focus on continually driving down their costs and they reward us with their loyalty. It is this great partnership that drives us to continually create innovative new products like the Kangaroo and Pouches On A Roll."

About Polyair
Polyair, a division of Polyair Inter Pack Inc. (TSE/AMEX: PPK), manufactures a complete line of protective packaging products and integrated packaging systems. Through its Industrial, Consumer and Home Improvement Divisions, Polyair serves most major market sectors, including e-business and retail networks, automotive, pharmaceutical, furniture, fulfillment, and commercial and Do It Yourself home improvement. Dedicated to building long-term customer relationships, Polyair ensures that each customer ends up with the ideal solution for their specific situation. For more information, visit www.polyair.com

For additional information, contact Nancy Tamosaitis, 212-888-6219, nancyt@vorticom.com

More from Controls & Controllers