Bryan Boilers' New BFIT Series of Condensing Boilers Provide Access to Heat Exchanger and Burner for Cleaning and Maintenance
Press Release Summary: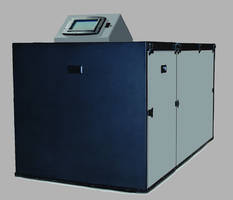 The new BFIT condensing boilers require 46% less space than competitive models and its large diameter tubes provide desired waterside traits for variable or full flow applications. The boilers offer an optional racking system and flexible venting options including up to 200 equivalent feet of the vent in CPVC, polypropylene or AL29-4C. The product comes with concert boiler control that features intuitive icon navigation, USB data sharing, self-guiding diagnostics and unmatched archives.
---
Original Press Release:
New Bryan Boilers BFIT Series Boilers
The century old company of Bryan Boilers, founded on rugged longevity and serviceability, expands its condensing offering with the BFIT Series of condensing boilers.  Unique in the condensing industry, the BFIT boiler provides access to heat exchanger and burner for cleaning and maintenance previously unavailable in condensing space.  Leave it to Bryan to bring some common sense to ensure long lasting reliability and efficient operation.
BFIT boilers require 46% less space than competitive models and an optional racking system allows for double the BTU's within the same footprint.  Large diameter, circular tubes provide desired waterside traits for variable flow or primary/secondary applications. 
A proven 5:1 turndown system reliably starts call after call and eliminates multiple, seasonal start-ups or excess air diluting condensing efficiency at low fire.  Flexible venting options include up to 200 equivalent feet of venting in CPVC, polypropylene or AL29-4c in Cat 4 or Cat 2 common venting with an engineered vent system.  The Concert Boiler Control features Intuitive Icon Navigation with "touch and move through" menus at commissioning or connecting with Energy Management Systems.  The control also features USB data port for sharing data, industry leading self-guiding diagnostics with fault and correction feature, and unmatched archives for logging operational information.
Bryan Boilers, originators of the "Flexible Water Tube" design, offers a broad range of boilers and accessories.  Water and steam products including gas, oil and gas/oil fired boilers, as well as electric, condensing, Low NOx and knockdown boilers.   Bryan  also manufactures indirect water heaters, pool heaters, feed systems and related boiler equipment and accessories.
For more information contact Bryan Steam LLC, 783 North Chili Avenue, Peru, IN 46970.  Phone: 765-473-6651, Fax: 765-473-3074.  E-mail: inquiry@bryansteam.com, Website: www.bryanboilers.com.  Also find Bryan Steam on Facebook and Twitter. 
More from Packaging Products & Equipment