Brushless Servomotors are offered in compact package.
Press Release Summary: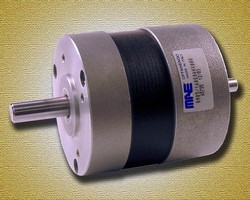 MAE® Series BM brushless servomotors are available in 9 models incorporating 4 or 8-pole stators, motor lengths of 55-274.5 mm, external diameters of 5.1-10 cm, and rated torque up to 6 Nm. Optional Hall effect sensors and encoders can be added to provide position and speed feedback. Optimized integration of copper in stator winding and engineering of rotor structure allow maximum concentration of magnetic flux. High-energy NdFeB permanent magnets are used in motor construction.
---
Original Press Release:

MAE® Brushless Servomotors Deliver High Performance In Compact Package



New MAE® brushless servomotors deliver high performance in a compact package to satisfy demanding power applications where space may be minimal and weight may be a factor. The servomotors further can be equipped easily with Hall effect sensors and encoders to provide accurate position and speed feedback.

Their compact design and reduced weight is made possible by optimized integration of copper in the stator's winding; a uniquely engineered rotor structure allowing maximum concentration of magnetic flux; and use of high-energy NdFeB permanent magnets in motor construction.

MAE brushless servomotors (Series BM) are available in nine models incorporating four- or eight-pole stators. Motor lengths range from 55mm to 274.5mm and external diameters range from 5.1cm to 10cm. Rated torque up to 6Nm and peak torque up to 18Nm can be achieved, depending on model.

The motors feature rugged construction (IMB5 according to IEC 34-7) and can be mounted reliably with flanges. All models are manufactured in accordance with industry-leading quality control standards and processes and can be customized to meet particular application requirements.

Contact John S. Wolfe, PennEngineering® Motion Technologies, 343 Godshall Drive, Harleysville, PA 19438-0003. Phones: 877-748-8626 (toll-free in the U.S.) or 215-256-6601; Fax: 215-256-1338. Web site: www.pennmotion.com

More from Chemicals & Gases