Brushless Motors feature built-in controller.
Press Release Summary: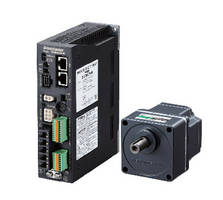 Available in 30 W (1/25 hp), 60 W (1/12 hp), and 120 W (1/6 hp) models, Type BLE Series with built-in controller (stored data) can be driven by connection to PLC or other devices. Motors come with round shaft, parallel geared, or hollow shaft flat geared combination. Offering stable speed control range of 80–4,000 rpm, maintenance-free systems feature long-life gearheads rated for 10,000 hours. All are IP65-rated from face mounting back.
---
Original Press Release:

Oriental Motor Introduces New BLE Series with Built-in Controller (Stored Data)



Torrance, CA – ORIENTAL MOTOR USA CORP



BLE Series Now with Built-in Controller (Stored Data).



Oriental Motor is pleased to announce the addition of our Built-in Controller (Stored Data) Type BLE Series Brushless motor and driver package as part of our FLEX network products offering.



The Benefits of the additional built-in controller (stored data) type is the built-in pulse generator allows the motor to be driven by a simple connection to a PLC or other devices. The burden on the programmable PLC or touch screen (HMI) is reduced because the information necessary for the motor operation is built into the driver. This simplifies the system configuration for multi-axis control.



The BLE Series products are available with 30 watt (1/25 HP), 60 watt (1/12 HP) and 120 watt (1/6 HP) motor in round shaft, parallel geared or Hollow Shaft Flat geared combination type. Both geared types come pre-assembled. All motors including geared type, from the face mounting back, are IP65 rated.



The BLE Series' key features are:

• Stable speed control range of 80 to 4000 r/min*

• Long-life gearheads rated life of 10,000 hours

• Maintenance free

• Compact and lightweight

• Energy efficient

• Electromagnetic brake available for vertical drive

*Use of controller module extends specifications.



Visit our web site to see the BLE Series with Built-in Controller (Stored Data) Type at http://orientalmotor.com/products/brushless-motors/ble-series-brushless-motors-built-in-controller.html



ABOUT ORIENTAL MOTOR

Since its founding in Japan in 1885, Oriental Motor has been a world leader in motion systems.  For over a century we have concentrated on technological advancement and product design improvement—an emphasis evident in the sophisticated devices we market today. Oriental Motor's sales and service network is international, with offices throughout North America, Europe and Asia.  Domestically, ORIENTAL MOTOR U.S.A. CORP. was established in 1978.



For more information:

Technical Support

800-468-3982

techsupport@orientalmotor.com



 



More from Controls & Controllers