Brushless Motor-Blowers support variable-speed operation.
Press Release Summary: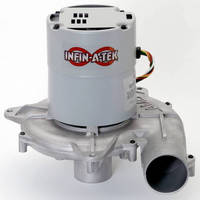 Based on proprietary brushless Switched Reluctance motor technology, INFIN-A-TEK(TM) motor-blowers come in 120 and 230 single-phase versions. They support air pressure to 2.6 psi and air flow to 300 cfm for one single unit or 4.1 psi and 500 cfm when used in air series-air parallel configuration. Lamination design lets motor achieve over 724 peak air watts with minimized energy consumption. Features include airflow bracket of die-cast aluminum, 7 lb design, and digital speed control.
---
Original Press Release:

Ametek Floorcare & Specialty Motors Offers High Efficiency INFIN-A-TEK(TM) Switch Reluctance Blowers



Partners with Graco Manufacturing To Market High-Performance Brushless Blowers

KENT, OH, -- AMETEK Floorcare & Specialty Motors, the industry leader in high-performance motor-blowers for central vacuum systems and other commercial floor care applications, has joined forces with Graco Manufacturing, a leading supplier of aftermarket repair and replacement parts for commercial and industrial equipment, to market a new series of AMETEK high-airflow motor-blowers.

The new line of high cubic-feet-per-minute (CFM) motor-blowers are based on AMETEK's proprietary high-speed, brushless Switched Reluctance (SR) motor technology and is targeted for industries that require high airflow and medium pressure.

The new high-efficiency INFIN-A-TEK(TM) motor-blower line features an advanced lamination design that allows the motor to run faster and achieve over 724 peak air watts, while consuming less than a third of the energy of traditional blower types. This reduced energy consumption means the INFIN-A-TEK blower can provide rapid payback and significantly reduced operating costs.

The AMETEK high-efficiency motor-blower incorporates an airflow bracket made of die-cast aluminum that improves efficiency and speed. When coupled with the advanced lamination and newly designed fan system, the result is greater efficiency, higher air watts and up to 300 CFM capability. The blower's compact, lightweight (7 lbs.) design makes it suitable for portable machines and ideal for air series/ air parallel configurations for increased air performance.

INFIN-A-TEK motor blowers have been extensively field tested and employ an upgraded digital speed control that further increases overall reliability. Its advanced design provides for variable speed options to optimize performance and efficiency for specific applications.

Unlike induction motors, the INFIN-A-TEK's universal motor technology achieves the same air performance both at 50Hz and 60z. This eliminates the need for manufacturers to specify a more powerful and expensive blower to compensate at 50Hz. That in turn helps to streamline inventory management.

The high-efficiency INFIN-A-TEK motor-blowers have neither the carbon brushes of series universal motors that limit the motor's life expectancy nor the drive magnets of PM brushless DC motors. Additionally, the extended life of the INFIN-A-TEK motor-blower is enhanced by a multi-phase bearing alignment and a patented enhanced air-seal protection system that is incorporated into each model.

AMETEK has joined with Graco Manufacturing to introduce the high-efficiency blowers into new markets, while continuing to focus on its core commercial vacuum markets and customers. The INFIN-A-TEK blowers are well suited for a variety of market segments, including solution agitation and aeration, air assisted inflation/support, material/pellet transfer and parts blow off/drying.

The high-efficiency motor-blowers are approximately 10" in diameter and 10' in height and 7 lbs in weight. They are available 120 and 230 single-phase with air pressure up to 2.6 PSI and air flow to 300 CFM for one single unit or 4.1 PSI and 500 CFM when used in an air series-air parallel configuration.

For more information, contact Nick Novosel, AMETEK Floorcare & Specialty Motors, Tel: 859-221-1169, E-mail: nick.novosel@ametek.com Web site: www.ametekfsm.com

More from Architectural & Civil Engineering Products